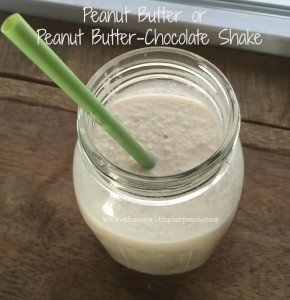 Peanut butter is one of God's best creations.  When He made the peanut, He knew what greatness could come out of it. THM's Peanut Flour is my favorite because it has no sugar added.  That's a big deal to me and I know it might be to you too.  I love that I can add peanut flour to my shakes, yogurts, cakes and muffins without having to be concerned about all the extra sugar, fat or "other ingredients" that may be lurking.
I've not shared with you my favorite shake!  What was I thinking?  Well, for one I just throw it together and never measure too often.  Many of my recipes are throw-it-together recipes.  I have to slow down and measure more often so I can share things. There are so many versions of similar shakes and recipes that I also figured no one might be interested in mine, but why not?  There's nothing new under the sun when it comes to recipes, but this is what I do.
Peanut Butter- Chocolate Shake (S)
Ingredients:
Directions:
I just put all the ingredients except the ice in my Ninja or blender and mix for about 15 seconds.  Then, I add the ice and mix again for about 30 seconds.  Done.
Peanut Butter Shake– Just omit the cocoa powder.  I love it either way.
I do love the optional ingredients.  They are two things I'm trying to put into my day for health reasons.  You can find amazing testimonies and articles online about Collagen.  I highly recommend THM's because of purity. On the THM website you can read under the product all the wonderful benefits.  Three biggies are that they promote join health,  great source of protein and that it's a natural energy booster! Gimme some!  If THM's is out of stock, Custom Collagen is a great one that I've used and many also love Great Lakes Collagen.   Now you can see why I add this optional ingredient.  It's amazing stuff!
MCT Oil is my second "optional" add.  I have some NOW Brand MCT oil in my cabinet, but hope to try THM's one of these days when I run out of what I have. The THM Website says, "MCT Oil raises your thermogenic temperature and brings on a metabolic inferno. Since it is burned up for energy so quickly it is very difficult for it ever to be stored as fat. This immediate fuel source becomes easily available for organs and muscles and promotes lean muscle increase at the same time as fat shedding."  That's one superpower-filled oil!  If you don't have MCT you can skip it or add coconut oil.  It will blend in just fine, or at least it does for me.

Peanut Butter Chocolate Shake (S)
This is my go-to shake when I'm craving something sugary! It keeps me low carb and satisfied.
Ingredients
1 cup unsweetened cashew milk (or almond)
½ cup water
1 scoop THM Pristine Protein Powder
¼ cup cottage cheese (I use 2%)
1 Tbs cocoa powder
1 Tbs THM Peanut Flour
1 Tbs Natural Peanut Butter
2 doonks THM Stevia Extract (or sweetener of your choice)
1-2 tsp MCT or coconut oil. (I use liquid versions) (optional)
1 Tbs. of THM Collagen or Custom Collagen (optional)
pinch of salt
12 cubes of ice
Instructions
I just put all the ingredients except the ice in my Ninja or blender and mix for about 15 seconds. Then I add the ice and mix again for about 30 seconds.
Done.
If you want a Peanut Butter Shake, just omit the cocoa powder.
I drink it all for a meal or snack, but you could share if you just want half.
Like always, I hope this helps you on your
Trim Healthy Mama
or low carb lifestyle.  I love to share what I do that works for me.  That's really a secret to sticking with about any lifestyle of eating.
More shake ideas?
There are affiliate links sprinkled throughout my post.  These are products I love and use that I find to be very helpful and trusted.