Peanut butter is the stuff that dreams are made of!  Well, maybe that's just my dreams. I know very few folks who don't like peanut butter and eating healthy doesn't mean you leave the "spread of awesomeness" in the pantry.  On Trim Healthy Mama we use all natural peanut butters that don't contain added sugar.  I've gotten a few brands now and my personal favorite from a store is Aldi's organic creamy peanut butter. It's a great price and doesn't have a ton of oil sitting on top to stir in. You can also easily make your own!  Gwen has a great homemade recipe and so does the THM cookbook on page 481.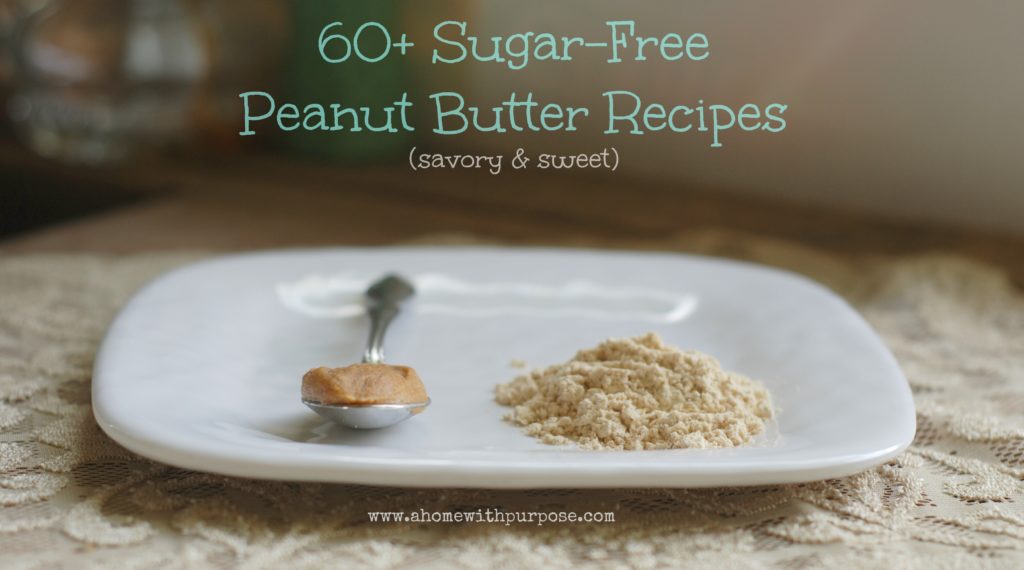 Another source to get in that peanutty taste without the fat is by using Peanut Flour.  I've tried a few brands of peanut flour now, but THM Peanut Flour is by far my favorite!  You can find a few peanut flours in stores, but please watch for added sugar. PB2 for instance adds sugar to their peanut flour.  I've used it in a pinch long ago, but try to avoid it since there are now so many choices with no sugar added.  JIF has a new Peanut Flour that you can often find at the store now as that is only peanut flour with no added sugar.
One of my cake recipes draws in many THM mamas each day!  If I look at what posts folks are coming to look at, my Peanut Butter Fudge Cake is always in my top 10.   It's a Texas sheet cake style dessert that really is so good.  If you haven't tried it yet, please consider it!
I have a few more recipes that contain peanut butter or Peanut Flour that you may want to try.
So, yes…I do love peanut butter!  The fudge and Peanut Butter Fudge Cake are two of my favorites.
My friend, Briana is a fellow peanut butter lover.  She has more peanut butter recipes on her site than I do!  I asked her to share a few of her amazing recipes, so here they are!
My buddy, Judy has some delicious recipes on her website, Wonderfully Made and Dearly Loved.  Check these out!
Gwen is my sweet friend!  We've even met in person and went antique shopping together.  Fun Memories…
Mrs. Criddle's Kitchen always has top notch recipes!  She has two home-runs that contain peanut butter!
Jaque is one of dear partners in crime and she has these delicious bars!
Amanda's got some great THM recipes and these blondies is one of them.
My Table of Three is a newer-to-me THM site.  I think you'll love her recipes.  She's a baker!
Look at Cate's cake!  Woah baby!
Tina has some great allergen friendly recipes that are on plan!
Chrissy Benoit has THM recipes that are becoming more and more popular.
Jennifer Mason has a yummy shake.
Robin at Mamashire.com has this easy dip you can make.
Rohnda is so busy being a famous THM photographer that she's not spending too much time blogging these days.  She's got this gem on her site! It's a must try! PMS life preserver!
Sheri has some famous THM treats!
Taryn is growing her THM recipes quickly.
Last, but not least in any way is a rockstar in the low carb kitchen, Carolyn from All Day I Dream About Food.
THM's Cookbook has some Peanut Butter recipes as well!  Don't forget to check those out when you are menu planning.  The book is a goldmine!
Banana Nut Muffin, page 277
Double Peanut Butter Fudge Swirl Brownies, page 315
No-Bake Cookies, page 316
Pay Off Day Candies, page 381
Peanut Junkie Butter, page 481
Treeces, page 378-379
Two-Minute Nutty Noodles, page 79
Apple Dip, page 466
Chewy Chotein Logs, page 390
Chocolate Nut Crunch Granola, page 255
Choco Nut Secret Big Boy, page 415
Chocy Nut Crockpot Oatmeal, page 257
Coconut Thai Chicken, page 45
Lightly Nutty Noodles, page 79
Peanut Cocoa Crunch Puffs, page 462
Peanut Gems, page 318-319
Peanut Popper Chicken, page 164
Peanut Puff Cake, page 292
Peanutty Fudge, page 388
Peanutty Trim Freeze, page 360
Praline Protein Bars, page 391
Shake Gone Nuts, page 411
Simple Simon Peanut Pressed Crust, page 324
Superfood Chocolate-Covered Peanut Chews, page 383
Sweet Dreams Cookie Bowl Oatmeal, page 249
Sweet Dreams PB and J Oatmeal, page 248
That's a wrap!  There are enough Peanut Butter recipes here to last you a long time!  I think even my peanut butter loving friend, Noel will be busy in the kitchen for awhile if she tries to make all of these.  So, raise high your spoon with me and have three cheers for peanut butter!