There is an ice cream joint in a town near us that has the best ice cream in Ohio. In the past we'd go there often after dinner and I'd get the same ice cream each time, German Chocolate.  I don't know why, but for as long as I can remember it was my favorite flavor.  I love the protein shakes that Trim Healthy Mama has brought into my life.  The sisters have out their own Pristine Protein Powder on the website!  I have loved making many different flavor combinations over the past year and thought I'd share one of my favorites.  After missing my favorite ice cream, I came up with a shake that satisfies my craving for the old favorite!  I feel super satisfied and knowing it's sugar free and healthy makes it so worth it!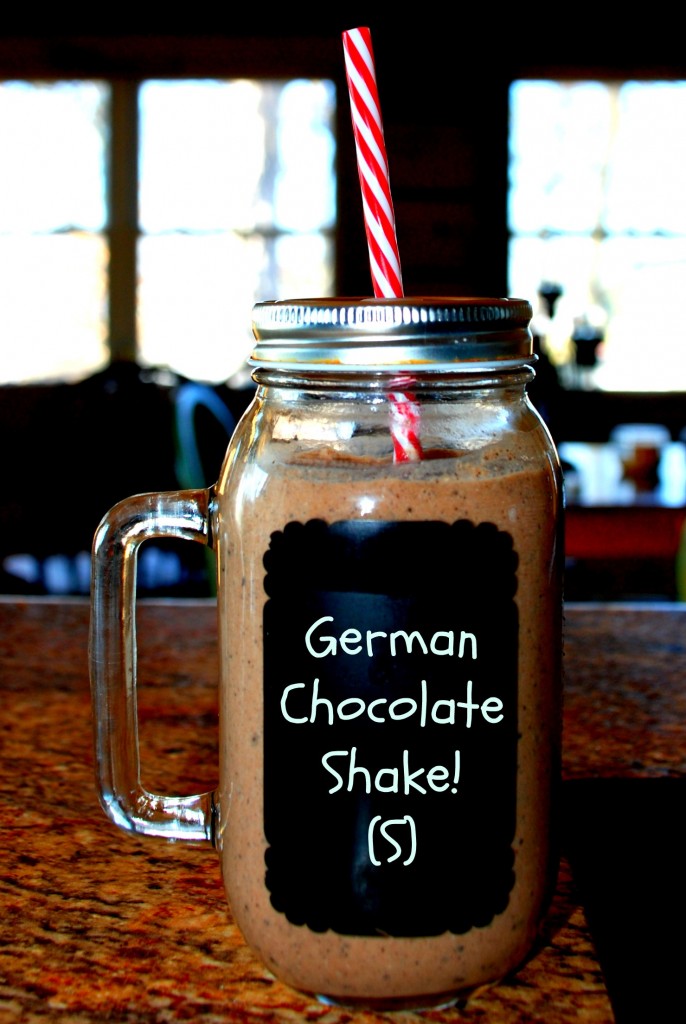 German Chocolate Shake! (S)
Recipe type:
Protein Shake
Delicious, creamy, chocolatey, sugar-free, low-carb goodness.
Ingredients
1 cup of unsweetened almond milk (vanilla)
½ cup of water
1 scoop of Pristine Protein Powder
1 Tbs. of cocoa powder
½ Tbs. of THM's Sweet Blend OR 1 Tbs of Truvia or xylitol
½ tsp. of Gluccomanan or Xanthan Gum
¼ cup of 1% cottage cheese
swirl of heavy whipping cream
½ tsp of coconut extract (optional but, I love it!)
½ tsp of vanilla extract
1 Tbs. of unsweetened coconut flakes
1 tbs of coconut oil
1 ounce of 85% chocolate (I use Aldi's brand)
12 ice cubes (my preference)
Instructions
Place wet and dry ingredients into a blender or a Ninja. Process for about 30 seconds. Add the ice and mix until a milkshake consistency.
I honestly put the wet ingredients in the blender or my Ninja and dump in the dry ingredients.  I do cut up the chocolate into a few smaller pieces before adding it in.  I then blend for 30 seconds or so before I add in the ice! Add the ice and let it mix til it's a shake like consistency.
This is a great way to get your protein and to start the day off with some healthy coconut oil.  I hope you'll love this shake as much as I do.  I don't feel deprived on my eating plan.  I honestly LOVE it or I'd not have been doing it for over a year now!
Trim Healthy Mama is transforming me into a new mama and a much healthier one at that!  Please visit my wonderful friend, Gwen's blog to get some great tips and recipes that will help you in your THM journey!
Pin: German Chocolate Shake!
Follow me on Facebook: A Home With Purpose- Jennifer Griffin