Low carb dieting used to have me missing something….healthy carbs! Trim Healthy Mama has something that low carb plans don't, E meals!  E meals are E for Energizing! These meals have up to 45 carbs in them and a tsp or so of fat.  At first, some find E meals a challenge, especially if they are used to a low carb/Atkins type lifestyle.  Don't let it become harder than it is.  I loved baked oatmeal and there are many recipes all over the web that you can use.  I thought I'd jot down my version for you to try! Here's a single serving recipe if you want to try it first: Single Serving Blueberry Baked Oatmeal
Blueberry Baked Oatmeal (E)~
6 cups old fashioned oats
2 1/2 Tbs THM Sweet Blend or double that if you use Truvia
1/2 cup unsweetened applesauce
4 cups unsweetened almond milk
1 1/2 tsp baking powder
1/3 cup 0% Greek yogurt
2 cups blueberries
1 tsp vanilla
1/2 cup egg whites
1 tsp cinnamon
pinch of clove
2 1/2 Tbs chia seeds
Just mix all the ingredients together in a bowl and dump the mix in a large, 9 by 13 casserole dish. Bake at 350 for 25-30 minutes.
I use other fruit in this recipe as well.  You can replace the blueberries with apples, raspberries, strawberries, peaches or even pumpkin.  I'd use about 3/4 to 1 cup of pumpkin and I'd cut out the yogurt since pumpkin is creamy. I would also add more cinnamon and clove if I was using apples, peaches or pumpkin. You could maybe even dice up one full banana in the recipe to make a banana bread flavored breakfast bake.  I change it up often and try different flavor combinations.

Baked Blueberry Oatmeal (E)
Prep time:
Cook time:
Total time:
This is an easy recipe that can be put together the night before! I enjoy eating it cold just as much as I like it warm. I almost prefer it cold.
Ingredients
6 cups old fashioned oats
2½ Tbs THM Sweet Blend or double that if you use Truvia
½ cup unsweetened applesauce
4 cups unsweetened almond milk
1½ tsp baking powder
⅓ cup 0% Greek yogurt
2 cups blueberries
1 tsp vanilla
½ cup egg whites
1 tsp cinnamon
pinch of clove
2½ Tbs chia seeds
Instructions
Mix all the ingredients together in a bowl. Pour into a lightly greased baking dish. I use a 9 by 13 glass dish. Bake for 25-30 minutes on 350.
This may sound odd, but I love it cold!  After it cools, I store it in the refrigerator.  I honestly cut a piece, add some berries (frozen or fresh) and I pour some unsweetened almond milk over it.   You can eat it either way.  Don't forget your protein!!  I usually put a 1/2 cup of Greek Non-Fat yogurt on top that has been sweetened with some THM Sweet Blend and vanilla.  YUMM-O!  If you don't love yogurt you could do a Fuel Pull Fat Stripping Frappe' (page 240) to add in some protein.  I even make up half of a recipe of a frappe' when I need some extra protein in an E meal.  The protein helps you stay satisfied for longer.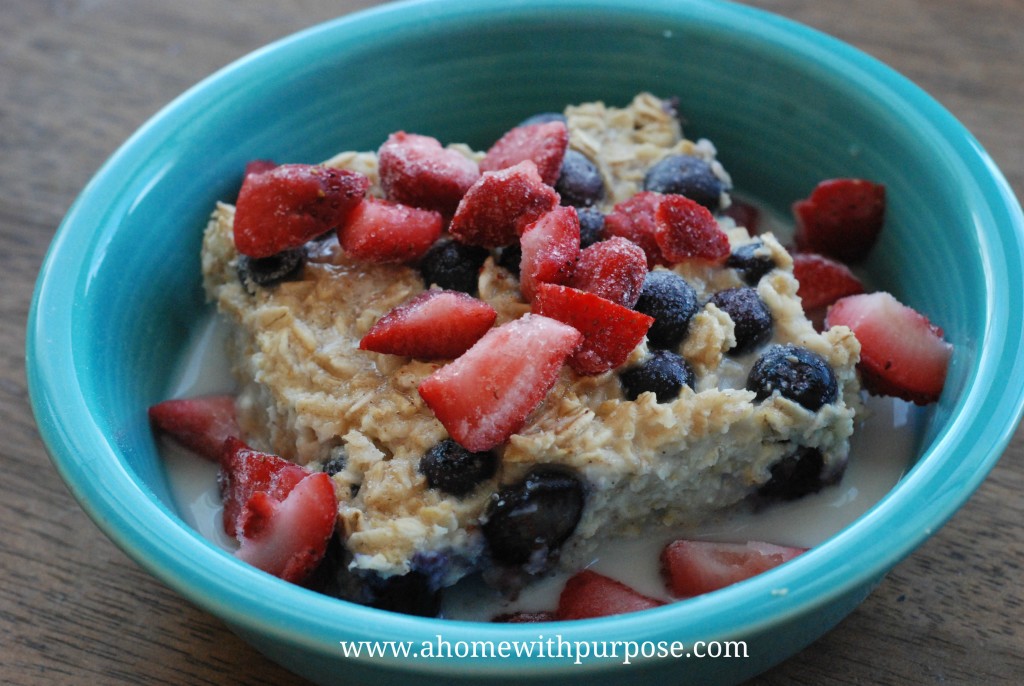 Why the chia seeds?  Well, they are filling and full of good fat!  It's a good idea to have that tsp of fat in your E meals.  Chia seeds are a fun way to add them in this recipe.  You can leave them out if you don't have them, but I like it.  Look up the benefits of the chia seed.  You'll be impressed. If you decide not to use the chia seeds, you could put 1 tsp of butter on top of your baked oatmeal slice. You need that yummy, good fat in your E meals.
I'll post a single serving of this soon!  Enjoy!
Follow me on Facebook for many great THM recipes:  A Home With Purpose- Jen Griffin
For a single serving recipe: Baked Blueberry Oatmeal-Single Serving (E)