You asked and I like to deliver…when possible!  Many of my Trim Healthy Mama friends are doing this journey on their own.  They don't want eight servings of a dish, but just one.  If you want a large pan of baked oatmeal goodness, I've got that for you too.
When I asked the awesome group of mamas that follow me on Facebook what they wanted it was a split decision!  They wanted a big pan and a single serving recipe.  Of course you CAN split the large recipe in two and have a 4 serving batch.  I do that for myself all the time.  This also freezes well.  You could put them in individual freezer bags in single servings to grab when you want a quick E breakfast.  Just de-frost and go! If you aren't Drive-Thru Sue you could get it out of the freezer the night before and set it in the refrigerator.  🙂 No microwave needed if you want to eat it cold.  You could always warm it up a bit on the stovetop or oven until it's warmed through.  Don't forget your lean protein. I like to eat mine with some 0% Greek Yogurt that has been sweetened with Sweet Blend and Vanilla.  YUM.
So, here is your single serving of Baked Blueberry Oatmeal!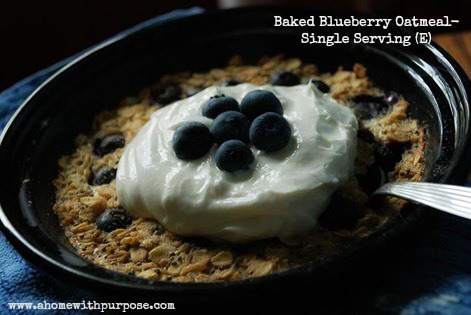 Baked Blueberry Oatmeal- Single Serving (E)
Recipe type:
Breakfast or Snack
Prep time:
Cook time:
Total time:
Yummy, warm Baked Blueberry Oatmeal! Tired of gooey oatmeal, this may be an answer for you.
Ingredients
½ cup old fashioned oats
1 tsp of Sweet Blend or 2 tsp of Truvia
3 Tbs of unsweetened applesauce
½ cup of unsweetened almond milk
1 tsp of chia seeds
½ tsp of baking powder
¼ cup of blueberries (or fruit of your choice)
½ tsp of vanilla
3 Tbs of egg whites or whites of one egg
Cinnamon (a shake or two)
Instructions
Mix it all in a bowl and place it in an oven safe dish. I have a small pie shaped pan that works great! Bake for 15 to 20 minutes depending on your oven on 350. It should be firm and not wet on top.
There you go!  A single serving recipe that is truly one of my favorites.
Pin: Baked Blueberry Oatmeal- Single Serving (E)
Find me on Facebook: A Home With Purpose- Jennifer Griffin