I happen to LOVE pumpkin and chocolate together.  They make harmony in my mouth! I wasn't about to go through Autumn without a Pumpkin-Chocolate Chip cookie.  How about you?  I don't want to beat around the bush.  I know you aren't here to read a wordy blog, but to get the recipe!  
Oooo….ahhh….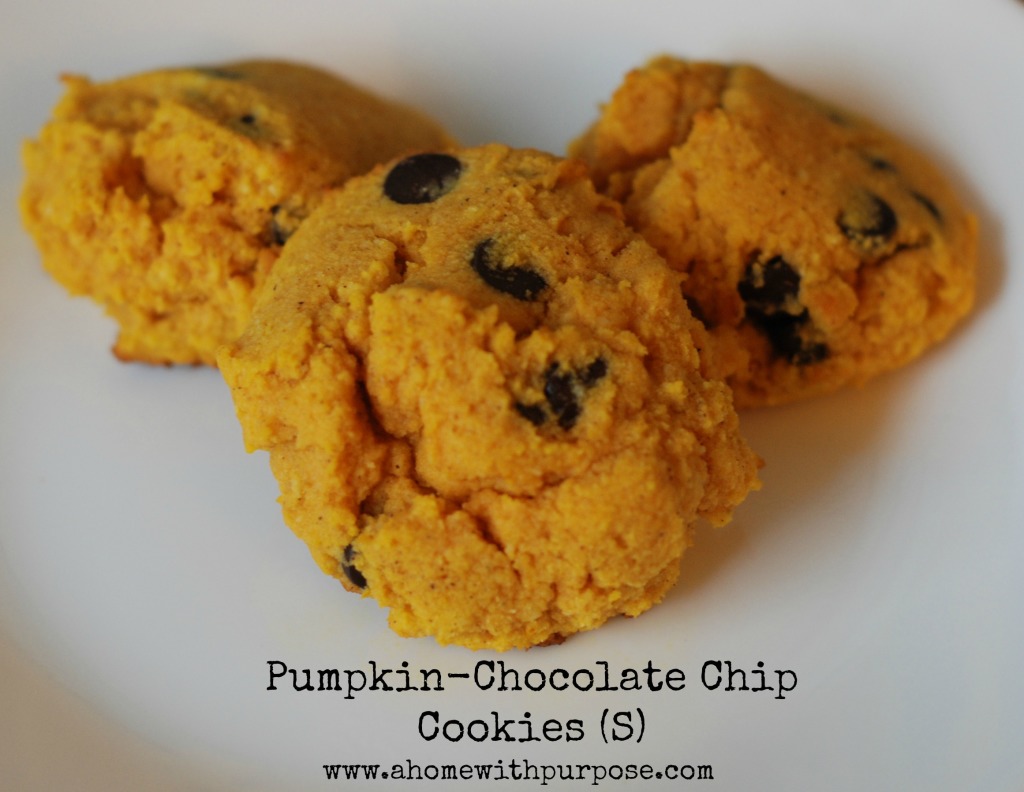 Pumpkin-Chocolate Chip Cookies (S)
Prep time:
Cook time:
Total time:
A yummy pumpkin cookie for Fall!
Ingredients
1 cup butter
½ cup THM Sweet Blend or 1 cup of Truvia
2 eggs
1 tsp vanilla
1 cup of pumpkin
1 cup coconut flour
1 cup almond flour
2 tsp baking powder
½ tsp salt
1½ tsp cinnamon
½ tsp ginger
½ tsp cloves
¼ cup fat-free Greek Yogurt
¾-1 cup of Lily's Chocolate Chips
Instructions
Mix softened butter and sweetener together in a large bowl. Add eggs, vanilla and pumpkin and mix well. Add dry ingredients. Last, mix in the chocolate chips. I go easy on my chocolate chips because of the price. You can add more if you want. Pre-heat oven at 350. Bake for 15 minutes on a greased cookie sheet. Cool and refrigerate!
Baking time may vary.  I baked mine for about 15 minutes, but I'd check them at 12 minutes or so and go from there.  I like these best after they are cooled and cold.  I keep them in the refrigerator because they contain no preservatives.  They become even yummier when chilled.  I even liked them better the next day! If you aren't used to cooking with coconut flour, it soaks up the liquids. Don't ever heap coconut flour in recipes, just a flat cup.  Let them cool.  They can be crumbly until they do cool down. I made about 3 dozen cookies from this batch. You could probably make more, but some of mine were decent size cookies. 
+Most recipes like this call for about 2 cups of chocolate chips.  I just can't do it!  Lily's are pricy where I buy them, so I go easy.  You can use more or even leave them out!  If you get the gumption, make a cream cheese frosting. Yum.
Pin:  Pumpkin-Chocolate Chip Cookies (S)
Follow me on Facebook:  A Home With Purpose- Jen Griffin