I have a serious love for salads.  I probably eat one huge salad for lunch most days of the week!  Trim Healthy Mama suggests eating greens, salads often as apart of the plan.  I usually buy a big tub of organic mixed greens at the supermarket. I use ranch here and there but, I wanted something that was more of a Deep S salad dressing since it's so good for me!  I opted to make my own dressing and I've not turned back since.  I like this dressing with a strawberry field's type salad or with tomatoes, cucumbers, green peppers, etc.  I think it can swing either direction.  If you know me, you know by now that I like EASY!  The less fuss the better.
Here's my yummy strawberry salad from yesterday!  No the salad is not a Deep S but, the dressing is!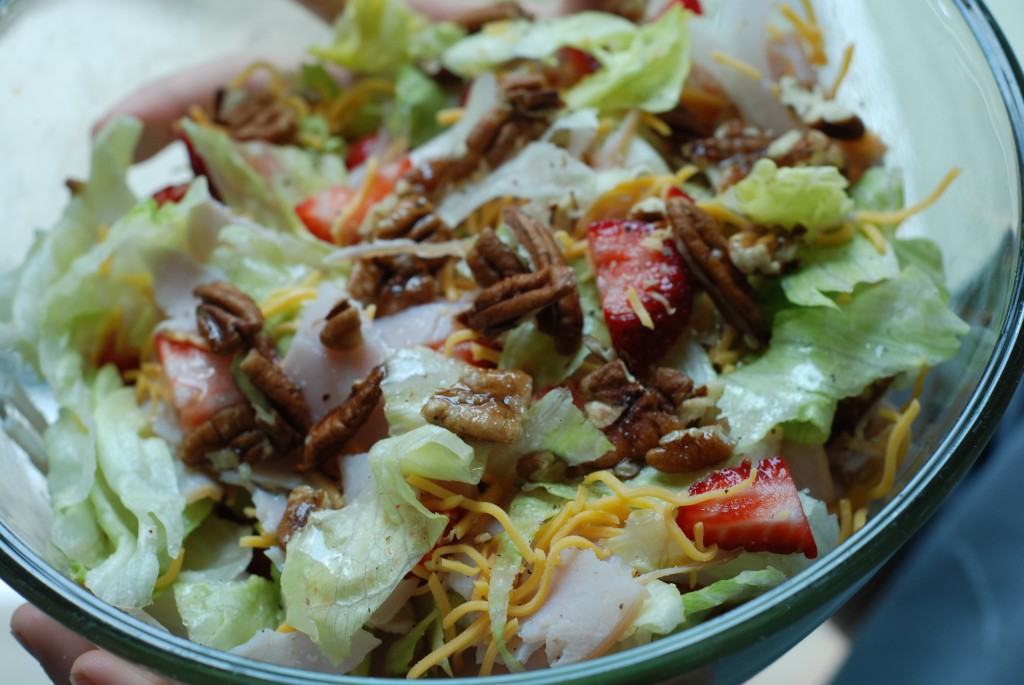 Here is the pretty dressing!  I think it would make a great gift for a new Trim Healthy Mama or for anyone for that matter!
I get my sweeteners at the Trim Healthy Mama Website!  Their sweeteners are GMO free and organic!  I think they taste heads and tales above the rest.

Tangy and Sweet Vinaigrette! (S)
Trim and Healthy Deep S dressing!
Ingredients
¼ cup of Bragg's Apple Cider Vinegar (I use a bit more often)
2 doonks of THM's Stevia Extract or 1 tsp. of Sweet Blend (add more if you like it sweeter)
½ tbs of minced garlic
½ teaspoon salt
½ teaspoon freshly ground black pepper
¾ cup olive oil
Instructions
Mix and stir together.
Store in an air tight container or mason jar in the refrigerator.
Visit me on Facebook:  A Home With Purpose- Jennifer Griffin
Pin:  Tangy and Sweet Vinaigrette! (S)