One of my sweet Trim Healthy Mama friends, Sarah Beth came to me the other day with an easy "E" side dish that I could share.  She's lost OVER 100 pounds on THM and a sweet encourager in my life.  She has an easy side dish that I tried and LOVED and thought you should try it too!
First of all, I often try to cook up a large amount of brown rice for the whole week.  In the old days, I cooked Rice-a-Roni or Instant White rice and I was very spoiled by how quick it was to get supper together.  I decided to try to make things easier for myself by cooking up larger batches once a week that I could use for E meals.  That makes things a bit easier for me on days when I'm pressed for time.  I boil my brown rice in chicken stock, water, salt and pepper to add some flavor.  Follow your package directions for amounts.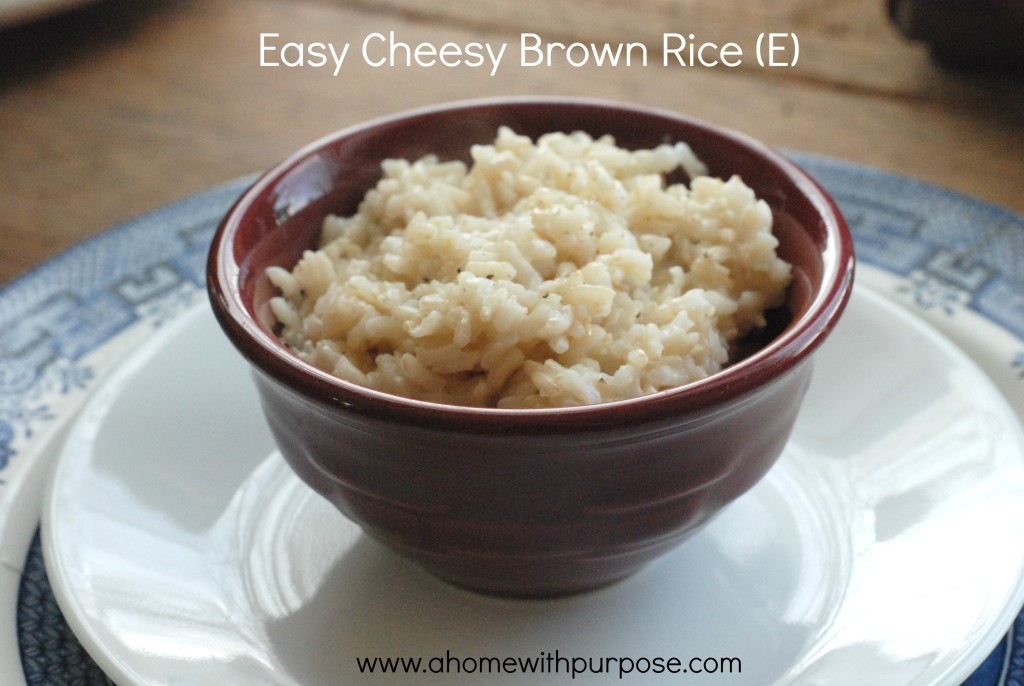 4 cups, cooked brown rice

1/4 cup skim mozzarella cheese

1 tsp garlic, or more if you love it.

salt 

pepper
You could add chopped onion, frozen peas, green peppers, mushrooms or whatever you enjoy in your rice.  I made mine with those basic ingredients and loved it!  I even made half of the recipe for just me one day and ate it for a few meals as my E fuel.   You can use up to 3/4 cup of brown rice in an E setting.  Make sure you have some good, lean protein with your E meals!  Here's my favorite chicken recipe: Garlic Chicken.  I just use less oil so I can use it in my E setting.

Easy Cheesy Brown Rice (E)
Prep time:
Cook time:
Total time:
Easy Cheesy Brown Rice is a super yummy, easy side dish to add to your E meals!
Ingredients
4 cups, cooked brown rice
¼ cup skim mozzarella cheese
1 tsp garlic, or more if you love it.
salt, to taste
pepper, to taste
Optional: mushrooms, green peppers, peas, onions, tomatoes or whatever veggies you like.
Instructions
Make brown rice as directed on packaging.
I do boil mine in chicken stock and water to give it flavor. I make large batches for the whole week. Take four cups of cooked brown rice in a pan and heat it on low heat.
Mix in the ¼ cup cheese, garlic, optional other veggies, salt and pepper.
Stir together until cheese is melted and the rice is warmed through.
I have a smaller family, so I make about half the recipe for the four of us.  I'd say that the 4 cups of rice as written in the recipe would serve 6 at least.   Serve this with some lean protein, like chicken breast!
Pin: Easy Cheesy Brown Rice (E)