There are two days that you don't forget when you are a foster parent.  The first is the day they arrive.  You know a few details ahead of time, but you don't know a thousands things that come with a child raised by someone else that is walking through your door.  You don't know what they've seen or heard or how they've been treated. (bad or good)  You don't know much but that they need you.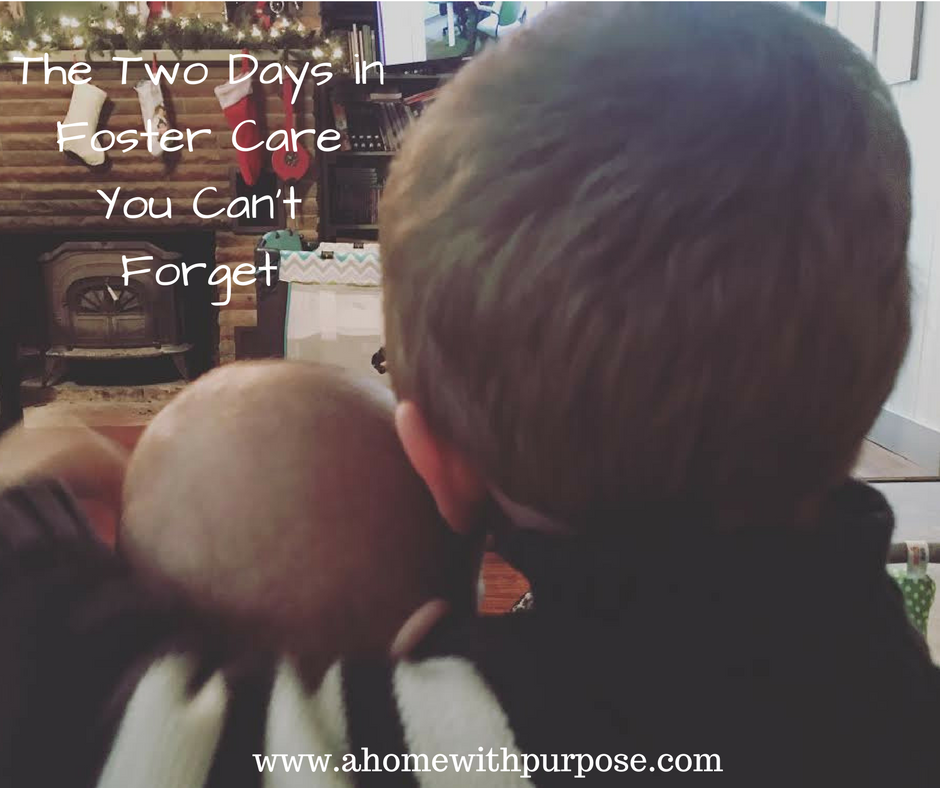 As a very nervous 2 year old walked into our house holding the social worker's hand, he wasn't sure what was going on. It was 10pm at night and he'd been asleep in the van. The day was already filled with scary things for him.  He was taken away from home and driven by a stranger to a doctor's appointment.  Prodded and checked out and a few notes were jotted down about him.  He was fearful.  Later he was then separated from many of his sibblings and taken to our house with his baby brother.  I'm sure coming here this late and in a whole new place after going through all he did earlier in the day was exhausting and frightening all rolled into one. It took him 30 minutes or so to him get off the social worker's lap and to play a little near her.  He was taken to the tub after that and cleaned up.  He cried.  It broke our hearts.  I can't imagine a stranger's tub at 2 years old. Someone you don't really know putting you in a bath.  Quick as possible and many tears filled that first time in the bath.  (It took a few more baths until he was happy in the tub.)  He did love his new jammies with Mickey Mouse on them and started to settle a bit.  The social workers left by about 11:30pm and it was another hour and a half until we got him settled in bed.  He was hungry and ate a little popcorn and sips of water.  It was just us on the floor at his level, smiling and reassuring him that it was all going to be okay.  I know a lot of silent prayers were uttered that night in my heart.  
As the 2 year old was in the bath, his brother was stirring in his carseat.  I'd not even gotten a good look at the baby yet.  He was 4 months old and super tiny.  It's been over 10 years since I made a bottle.  I fumbled around the container looking for instructions.  These new bottles with inserts to help babies with gassy tummies were all new too.  "Lord, help me!" was what kept running through heart.  I picked him up and fed him.  His eyes barely even opened he was so tired.  Such a long day for him with all new people and places.  I'm sure sleeping with his best weapon of defense to block it out.
At 1 am as the boys were both finally in bed, I lay in my own bed crying and praying.
"Lord, can I do this?"  
"What were we thinking?"  
"What if the toddler gets up in the night?"
"What will tomorrow be like when he wakes up and sees where he is?"
"Lord, I don't know why you called us to this! It's so hard!"
"Give me strength."  
I won't pretend the first two weeks weren't hard.  I was given two sick boys with colds who were unsure and timid.  The first three days were the biggest adjustment and after that they did so well.  The rest of that two weeks was tougher for me with adjusting to doubling our kids, figuring out schedules and lack of sleep. Lack of sleep is huge for my low thyroid, adrenal fatigued body.  I learned to rest during the day and to go to bed a lot early to make up for the night time feedings.
The joy that came with the boys made every moment worth it.  I was with them 24 hours a day to pour in all I could.  My boys learned invaluable lessons as they cared for them, loved them and helped me at the house.  We watched the baby grow and change so fast we couldn't believe it!  He was tracking us with his eyes and smiling in no time.  He started to eat his oatmeal and gained pounds very quickly.  Rolling over, giggling and "talking" became his favorite things to do.  He was so happy and rarely cried unless he was a little sleepy.  He loved being held and talked to.  If I wasn't holding him, he had his eyes set on me from across the room.  His bouncy seat was his favorite other than my arms or one of others in the family. He quickly learned to push the buttons and play with the toys.  It was like a miracle to see him grow.
The two year old is pure happiness as well.  At first he said "Mine" or "that's mine" to everything.  We worked every day on that and on him asking for things with, "May I have ___ please."  He really had it down before he left.  He loved to read books and sing songs with us.  He prayed each night with his hands folded. He likes stickers a lot and coloring.  Play-doh was interesting to him and he always like to smell it and have all of us smell it too.  He'd like for me to brush his teeth and then he wanted each of us to smell his fresh breath.  His favorite person was Shan.  He was always squealing and jumping up and down when he'd come home from work.  Weekends were amazing to him when Shan was home.  Next to Shan came our oldest son, Noah.  They were together a lot and man did he love Noah.  Their relationship was so special to my heart.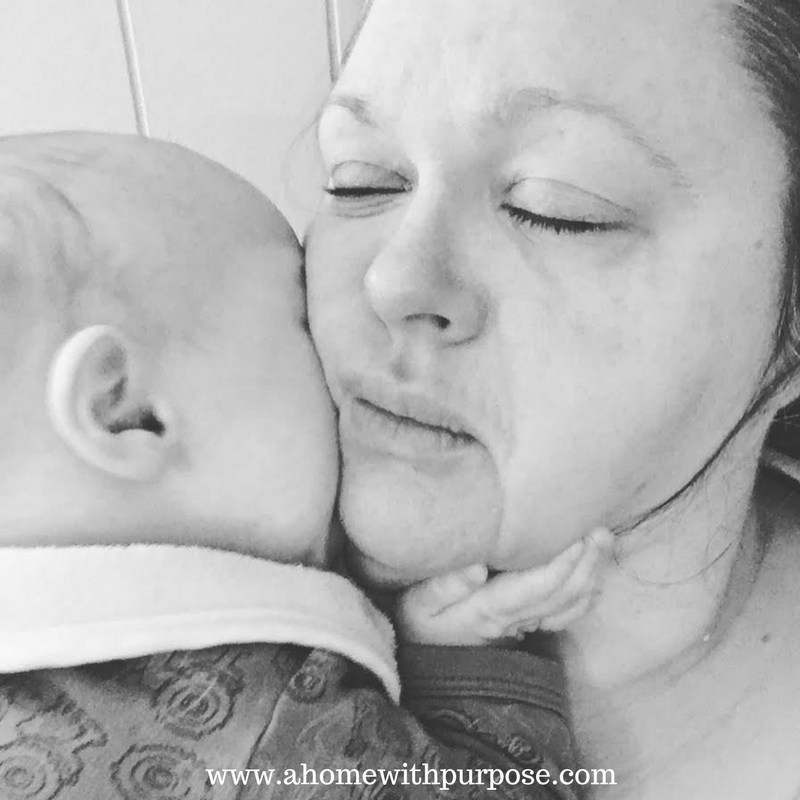 The second day you never forget is the day they leave.  We were as prepared as we could be, but it was still the hardest day I've had to walk through as an adult. The foster care system is broken.  Many social workers are burned out and used up.  They don't have a passion for it anymore.  We felt the brunt of that in our case.  Lies.  The lying was the hardest.  We fought for these boys as did their parents. When we came to the final meeting the social worker rolled her eyes as she saw us and the birth mom waiting. Very professional. It didn't matter what we thought or felt was best…any of us. My husband spoke up and caught lies even during the meeting.  Our case worker from our agency spoke her piece of how disappointed they were with how our case was handled.  In the final meeting we were told that a family in the county that had two of the siblings had the room for four children. (I'm leaving details out because it's personal.) It didn't matter how long they'd been with us.  The county told us that being in their network and county was what mattered and that two brothers would be there at least at night when they were all tucked into bed.  We are with a private agency and it cost more for the boys to be in our home for the county. (our agency's input on it all.) It was also mentioned that it took an hour to get to our house.  They complained about that a few times.  It was 15 minutes further to drive for their once a month appointment.  15 minutes. It was too inconvenient. They would be moved in three days.  They even mentioned that they'd move them again if they found a home for all of the siblings in one place.  We were taught that moves hurt kids in all our foster care training.  That didn't seem to matter at this point.  We were equally surprised that the parents own wishes didn't matter at all. They were actually cold and rude to the birth mom. Not every helpful to her as she is dealing with so much already. I sat there in tears as did their mother.  The only kindness came from our case worker and one lady across the table who slid me the box of kleenex…if that counts.
We had two comforts through the heartache when the news was broken.  God is Sovereign over everything.  We are trusting Him, even when a situation seems like it makes absolutely no sense.  The second, we had talked to foster family taking them and had become friends.  We felt the boys would be safe.  We knew the two year old would do okay because his siblings were there.  They'd make him feel more comfortable going.  He had changed so much just at our house and was doing so well meeting others.  Many boundary issues come with it all and he certainly has those as well.  He loves everyone he meets and will tell them. All things he may struggle with for a long long time as folks come and go or have come and gone.
Each day since they left has been hard.  We loved them with all our hearts.  I poured out 100% and treated them like they were my own.  We all did.  I watched my men all cry as they hugged and kissed the boys goodbye.  "You sad? You crying?  I love you." was what our sweet two year old kept repeating to each of us.  His last words to each of us were "I love you." My heart broke when I handed that baby over.  I was almost numb and felt like everything was in slow motion.  I then bent down to kiss and hug the two year old goodbye as he was heading to the hallway.  No one held him or even reached for his hand.  No love at all or kindness was shown.  "Let's go, guy." was all that was said as he followed them down the hall holding his favorite stuffed animal.  I remember the sound of the door shutting and then I cried and sobbed.  Loud, gut wrenching tears of sorrow.  Our case worker was there with us and was so kind to rub my back and comfort me.  She cried with us.  Our agency was heartbroken for us and for what all happened to us in this situation.
Will we do this again?  We are praying.  We are healing and taking a break.  We long with all our hearts to adopt and add to our family, but fostering is different.  Maybe I'm a terrible foster parent for loving too much?  I'm not sure.  I feel like I've lost my own kids.  It's a grieving process for all of us.  Just when I think I'm having a better day, I cry in the shower.  It seems to be my crying place.  Maybe it's because I don't worry the boys by my tears in the quietness of the tub.  Night time is hard too.  I was used to getting up once or twice in the night.  The crib is empty.  I heard a baby in Walmart and I cried.  I thought it was mine.  Socks left behind. Odds and ends I keep finding that have memories attached.  Fingerprints that I cleaned off of our Suburban window just yesterday made tears fill my eyes.
What gives me hope?  It was first a bird.  It was on a day full of snow last week.  I opened the door to let the dog in and I heard a noise.  I listened closer and it was the sound of a bird.  It was happily singing on a cold and snowy day.  That little bird gave me hope that day.  Though my days are cold, dreary and hard right now…joy comes in the morning.  The bible doesn't say that next morning.  (I studying the text.)  It just means that in time, it will come. God gives me incredible hope in His word as well.   When grief hits, I can run to Him and cling to His word.
Matthew 5:4 "Blessed are those who mourn, for they shall be comforted.
Proverbs 3:5-6 "Trust in the Lord with all your heart, and do not lean on your own understanding. In all your ways acknowledge him, and he will make straight your paths."
Psalm 30:5b "Weeping may last for the night, but joy comes in the morning."
Psalm 62: 5-8 "For God alone, O my soul, wait in silence, for my hope is from him. He only is my rock and my salvation, my fortress; I shall not be shaken. On God rests my salvation and my glory;  my mighty rock, my refuge is God.  Trust in him at all times, O people;  pour out your heart before him; God is a refuge for us."
I can keep listing scriptures, but these are a few that I hold on too.  I know this post is probably scattered, so please forgive me.  It's been almost 2 weeks since our boys walked out the door.  I'm just now able to even write any of this out.  I cried as I typed, but I wanted to document as much of it as I can.  I'm not sharing all the details, the whole situation and why some of it is incredibly difficult.  We are praying for restoration, repentance, salvation and healing for so many involved.  We are praying for our own family as well as others involved in each step. We are continuing to pray for the birth family as they work through their own struggles and addictions.  I hope that one day we will be able to see the boys and be in their lives when the time is right.
Thank you from the bottom of my heart to the hundreds of you who have prayed for me. You've written messages, sent texts, prayed, sent verses and stories of your own experiences.  I am humbled by the outpouring of love and concern. God used so many of your stories and encouragement to keep my eyes on the Lord.  My church sisters have been an amazing support system. I can't thank them enough for letting me cry and for encouraging me to look to Christ.  Family has been a huge blessing.  So many hours helping us with the boys!  So many snuggles, hugs, books read and songs sung.  I especially appreciate my mom and granny for countless hours of help and support.  You've cried with me and I won't forget that. Shan has been my strong shoulder. When hard news came, Noah held my hand and talked things through with me in the car.  Titus is only 10, but he knows when I'm struggling and is quick to hug me and tell me he misses them too.  God is so good to us.  So good to give us these incredible boys to love the past two months and prayerfully into the future. In time, I will share more and how God brought us comfort through unexpected people throughout this journey.