It's the most wonderful time of the year when the smell and taste of pumpkin is brought to life in our homes!  I'm sure you've noticed already that I LOVE pumpkin treats!  Pumpkin is a Fuel Pull on the THM plan which makes it so versatile and lovely.  With Thanksgiving on the horizon I wanted to make a yummy treat to take along to holiday gatherings.  It's a wonderful breakfast as well as a dessert.  I add a pat of butter and warm it up for breakfast.  For dessert you could make a luscious cream cheese frosting using cream cheese, vanilla, plan approved sweetener and some greek yogurt.  YUMMY!  Some homemade whipped cream would be indulgent as well. This is a very thick batter.(it is a poundcake after all)  I'd add some protein with this if you eat it for breakfast.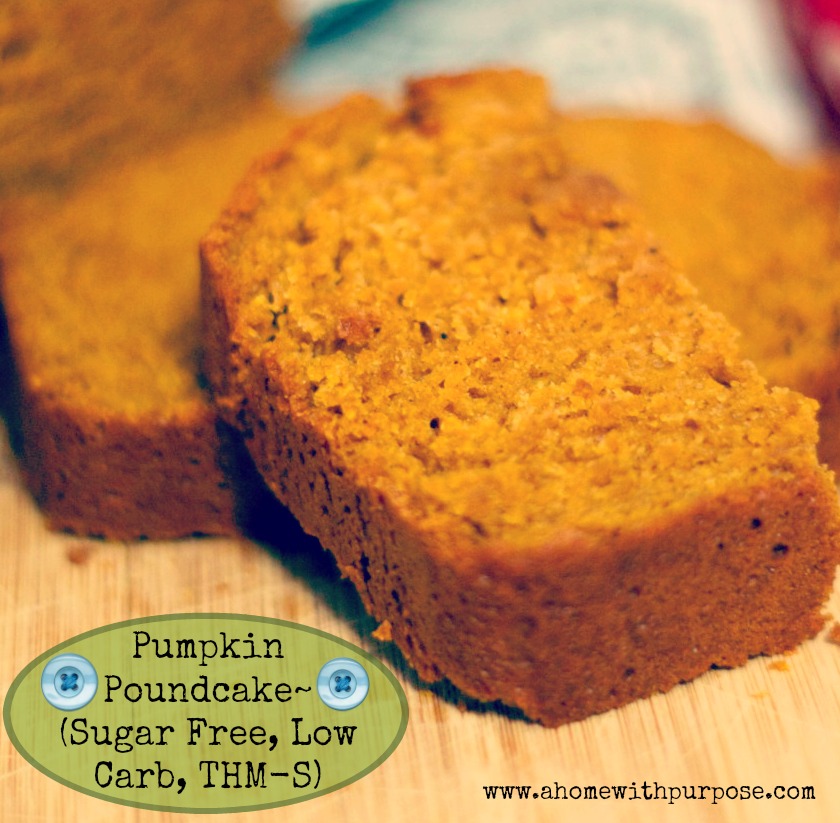 Sugar-Free Pumpkin Poundcake~ (S)
Recipe type:
Dessert, Breakfast
Pumpkin Poundcake couldn't be more delicious! This is wonderful anytime of the year, but I especially enjoy it during the cold seasons. This poundcake will be a great dessert to take along to any potluck or a party. YUM.
Ingredients
1 cup coconut flour
1 & ½ cups almond flour
¼-1/3 cup of THM Sweet Blend or 1 cup of xylitol
1&1/2 tsp aluminum free baking powder
1&1/2 tsp of cinnamon
½ tsp. clove
¼ tsp salt
3 eggs
⅔ cup egg whites
1&1/2 tsp vanilla
1 can pumpkin puree' (15 oz)
Instructions
I pre-heated the oven to 300 degrees. Grease a 9 by 5 loaf pan very well with butter or coconut cooking spray! I dusted the pan with almond flour but, you could also use oat fiber to coat the pan. I mixed the dry ingredients in one bowl and the wet in another. Combine them together and mix. I used a hand mixer to get it good and smooth. Bake for 1 hour and 30 minutes or until done.
Let it completely cool before you try to remove it from the pan. I was a bit too eager! This serves 16 slices of poundcake. I took my knife around the edge of the pan as well to loosen it. Store in the fridge in an airtight container.
Variations: you could add some walnuts! I also think this would be very good in a chocolate pumpkin. You could play with it and add in some unsweetened cocoa powder. It may need more liquid though.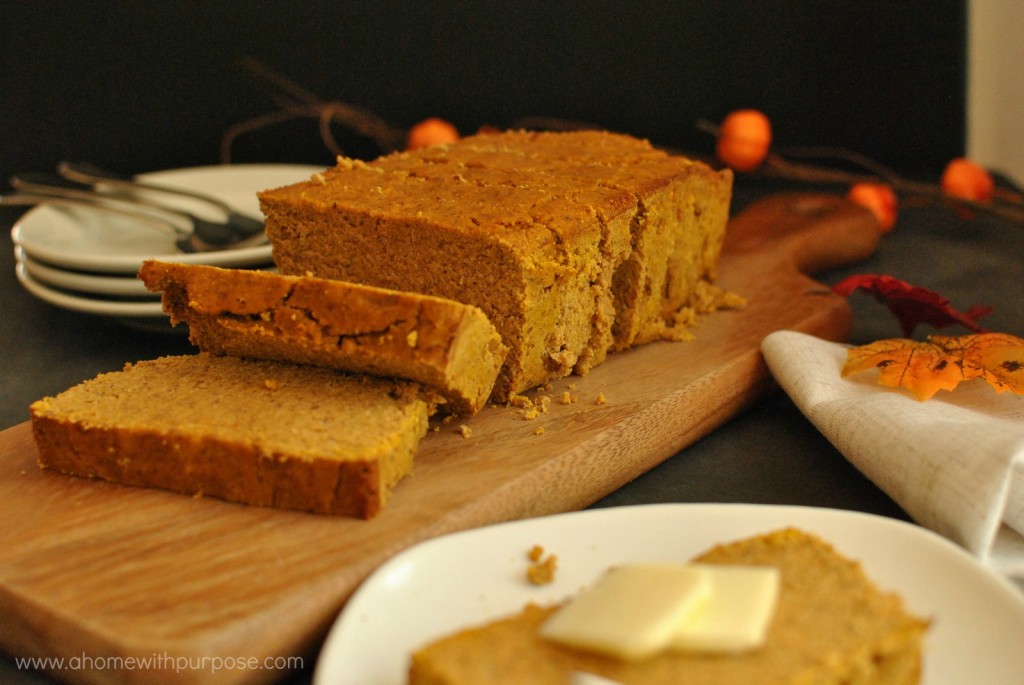 I am thankful for my sweet friend Rohnda Sue who took this picture.  You should visit her blog!
For more info on a low glycemic lifestyle, check out Trim Healthy Mama's website!  You can purchase the Sweet Blend that I mention in the recipe on their online store!  
Pin: Pumpkin Poundcake (Sugar-Free, Low Carb, THM-S)
Visit me on Facebook!  A Home With Purpose: Jennifer Griffin