Long ago, before I became a Trim Healthy Mama I made a dish called….Chicken Baseballs.  I know, I know it an odd name for a dish, but that's what it was.  Today I was thinking about that yummy recipe realizing that I could make it THM friendly.  I really think most recipes can be made or revamped to work for the plan so they are healthy for you and slimming.  I figured I'd give it a better name  while I was at it.  The old breading was crescent rolls so they really no longer look like a baseball! 🙂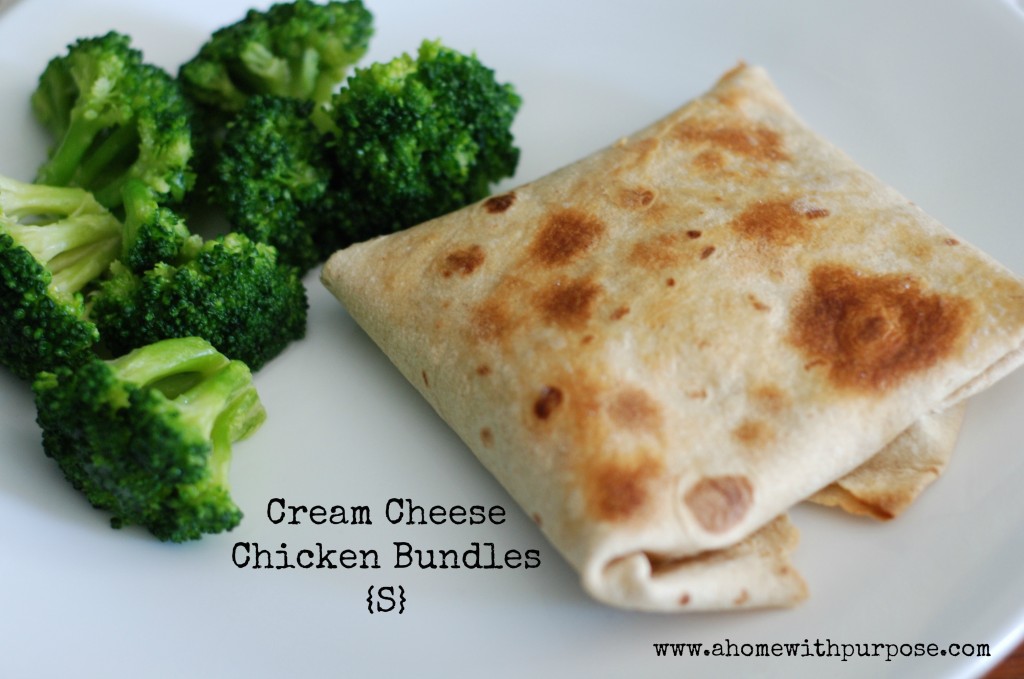 If you are tired of chicken dishes, use another meat!  You could use cooked ground turkey, canned turkey, ground beef, even taco flavored meat.  I think this is super versatile!  I enjoy chicken and love finding new ways to use it at home. I used rotisserie chicken to make mine today.  I also LOVE easy.  I'm going to give you an easy way and a second option that takes a little more time. 

Cream Cheese Chicken Bundles (S)
Prep time:
Cook time:
Total time:
Ingredients
4 ounces ⅓ less fat or full fat cream cheese
2 Tbs butter
2 Tbs of 0% Greek Yogurt
¼ tsp salt
¼ tsp pepper
¼ tsp of garlic powder
2 tablespoons onions, chopped
2 cups cooked chicken, cubed or 2 cups of canned chicken
4 Low Carb Tortillas (I use La Tortilla Factory)
Instructions
Mix all the ingredients together, minus the tortillas and place them in a microwave safe bowl. Cook for 30 seconds or so until the butter and cream cheese are soft and you can mix the ingredients well together.
Divide the ingredients up into the four low carb tortillas. Fold them up into a square packet and flip them upside down on to the baking sheet or in a casserole dish.
Bake for 20 minutes at 350 degrees.
Options: Make it your OWN! Add veggies like broccoli or green peppers. You could use Rotel to add some flavor. Just add things you know your family will enjoy.
 Super duper easy. That's what I like best in my kitchen.  This is the basic recipe so you can feel free to add whatever you and your family enjoy to make it suit you!  Add some spice with cayenne pepper!  Add other veggies like broccoli or cauliflower or some green peppers.  I think rotel would be another nice addition to this.  Play around with it.  You can have many versions of this recipe to enjoy by using different kinds of meat and fillings.  
If you want to try this with a calzone type breading instead of the low carb tortillas I have a recipe you can try!  Shelby Dunning told me about this delicious recipe that could work great from Maria Mind and Body.
 If you aren't following my Blog Page on Facebook, come on over! A Home With Purpose-Jennifer Griffin
Pin: Cream Cheese Chicken Bundles