One combo I can't get enough of is banana and peanut butter!  This treat isn't super low in carbs, but it's not a sugar spiker either.  On the Trim Healthy Mama plan it's considered an "E" for Energizing fueled meal.  For those lurking and wondering about THM, this is a low in fat treat, but moderate in carbs.
This was so so good!  I was thinking, "Jen, why didn't you think of this years ago?"   Five ingredients folks….just five!  This will be such an easy snack or breakfast for you.  THM has their famous Cottage Berry Whip that I'd made for years.  So good and it's a Fuel Pull(or low fat and low carbs). You can watch the girls making their CBW on a video too. 
You can take these treats in a cooler on a trip,  spread it on some Nuke Quean Bread, pack it in the kids lunches!  This would be a most wonderful fruit dip for apples if you go to a party.  No one would have a clue that there is cottage cheese in it!  You truly cannot taste it at all.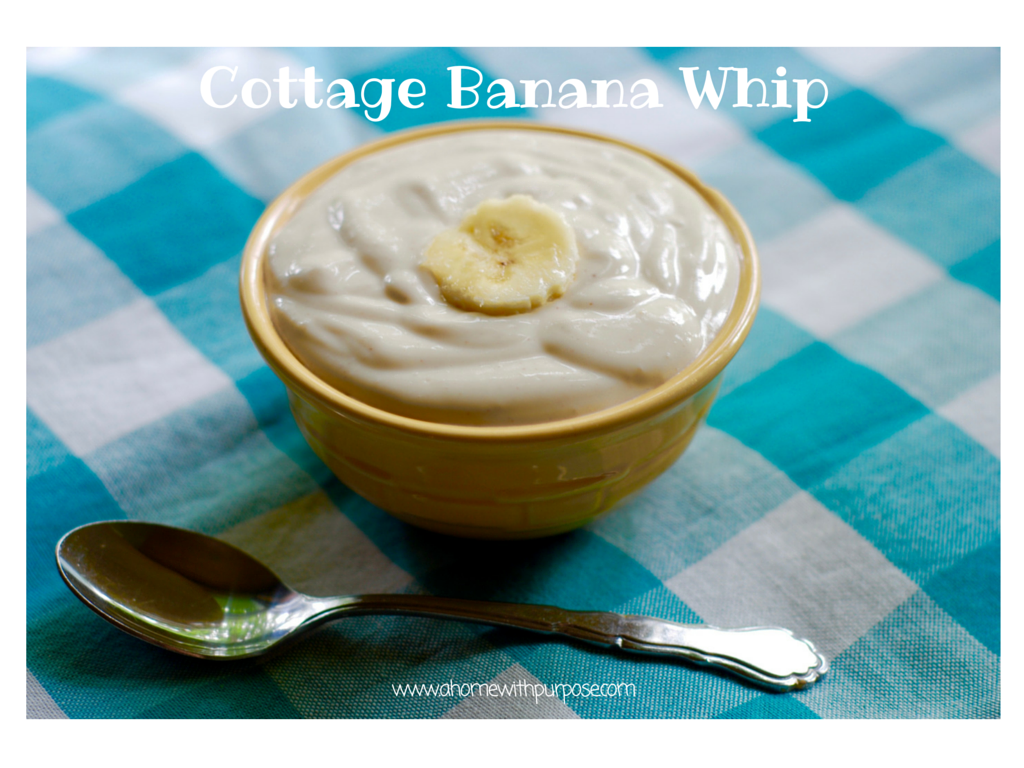 Ingredients:
Instructions:
Put it all in a Ninja, blender of food processor and blend until smooth.  Mine took a little bit to get going, but then it was magic!  If yours is just too hard to blend, add a tbs of on plan unsweetened milk.  Just a little bit until it takes off.    Eat or Refrigerate.
I ate mine straight out of my Ninja, but some may like it colder.  I loved, loved it!  What a super simple E treat, packed with protein!
One SMART THM just gave me her an amazing idea.  She suggested leaving out the peanut butter flavor and adding some Slim Belly Jelly or on plan fruit spread on top to make a banana split type flavor!  Brilliant!  These also make healthy and yummy popsicles.
Can you use all natural peanut butter?  I'd say to using 1 tsp or so is okay, but it might not be peanut buttery enough. In an E setting you want 1 tsp of added fat or 5 grams.  Peanut butter is very high in yummy fat.  I love Peanut Flour because it's defatted.  It is such good stuff to have in your pantry.  I highly recommend it!  I use it in shakes all the time and now, for this. I may need to buy stock in it.  You could also use some Peanut Junkie Butter from page 481 in your THM Cookbook!  I'd start with 1 Tbs and taste. Add more if you need it.

Cottage Banana Whip (E)
Easy, simple E dessert, dip or breakfast!
Ingredients
½ banana
1 cup 1 or 2% cottage cheese
1 doonk THM Stevia Extract
½ tsp vanilla
1-2 Tbs of THM Peanut Flour (I taste and add more if I need it.)
Instructions
Put it all in a Ninja, blender or food processor and blend until smooth. It take a few seconds to get moving, but then it's magic!
If yours will not blend, add 1 tbs of unsweetened on plan milk. That should do the trick!
Eat or refrigerate.
My love affair with peanut butter continues.  Did you see this post with
60+ Sugar Free Peanut Butter Recipes
?  See!  I have issues.
*This post may contain affiliate links.  It costs you nothing extra, but helps us keep my website moving.
Join me on Facebook!  A Home With Purpose- Jen Griffin