Shan just finished up his first week on Trim Healthy Mama!  I'm so proud of him for sticking with it.  Not one single cheat!  He gave up his beloved Coke and potato chips.  He did deal with quite a few headaches this past week, but pushed through it.  Detox is never fun for anyone. He really enjoys his "S" or Low Carb meals, but I did sneak in the "E" meals for breakfast here and there to make sure he wasn't just low carbing it. Thankfully he enjoys oatmeal and sprouted bread from Aldi's.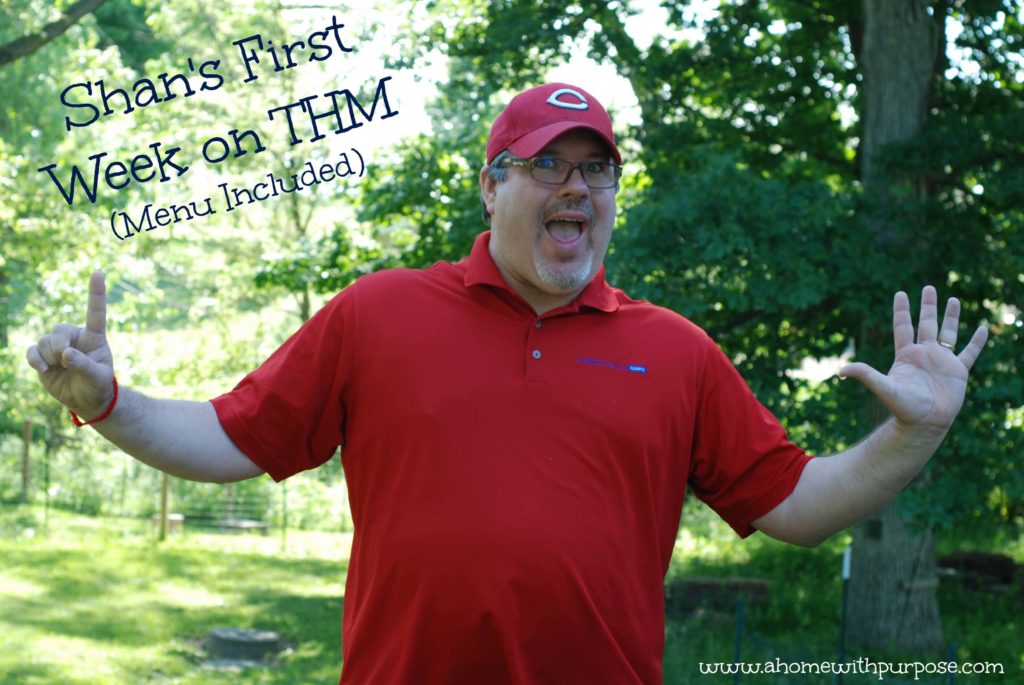 Here is his menu for the past week!  This includes eating out on the weekend which is often normal for us as we are on the go.  I'm not trying to show you a copy of what you should do, but just to keep accountable and to let you see that anyone can do it.
SHAN'S FIRST WEEK ON THM.
Wednesday, June 1st- Day 1
Breakfast:  4 eggs, 2 strips of bacon and sausage (S)
Lunch:  two burger patties with slivered onion, sugar free ketchup, mayo, mustard. Small side salad with Bolthouse Parmesan dressing and sliced cucumbers. (S)
Dinner: Full Chicken Caesar salad at Panera bread and a cup of French Onion soup with NO bread.  He added parmesan cheese crisps to his soup and left many of the onions in his bowl. (S)
Thursday, June 2nd- Day 2 
Breakfast: Egg Whites Oatmeal (E)
Lunch: Sausage, onions and peppers.  Shan had some pork rinds and some cashews as I cooked. (S)
Dinner: Steak (8 oz), green beans cooked in butter with some bacon bits, veggie tray on the  table had baby tomatoes, celery, carrots, cheese, cucumbers.  He ate a bit of that as well with some ranch dip.
Friday, June 3rd- Day 3
Breakfast: Two pieces of Aldi's on plan bread with probably closer to 2 tsp of butter instead of the normal 1 tsp. A little leeway since he's a dude. A baby FP protein shake. (E)
Lunch:  Aldi's Fit & Active Flax wrap, turkey, mozzarella, few thin slices of onion and tomato, mayo. Side of pork rinds and a few cashews. (S)
Supper: Grilled chicken chunks with ranch dressing and a side salad. (S)
Saturday, June 4th- Day 4
Breakfast: All bacon  (he made his own and left to mow the yard! Ha!) (S)
Lunch: Two burgers with toppings and some pork rinds. Busy day working on the farm. He wanted a fast lunch. No bun. (S)
Dinner:  Recipe coming soon.  It was a Beef and Chorizo Casserole. (S)
Sunday, June 5th- Day 5
Breakfast: McD's on the run!  He had two bacon, egg and cheese biscuit meals with NO biscuits.  Sounds funny, but that's what we get.  (S)
Lunch: Mexican salads with chicken breast, veggies and ranch.  We split an order of baked chicken wings. (S)
Dinner: Pizza Casserole (S)
Monday, June 6th- Day 6
Breakfast: bacon, eggs, cheese (S)
Lunch: Turkey chopped salad with ranch at Subway. (S)
Dinner: Mexican Fajitas (beef, chicken and chorizo), some onions and peppers, salsa and cheese.  No tortillas. (S)
Tuesday, June 7th- Day 7
Breakfast: Bowl of oatmeal, added 1 tsp of butter, a side of a few pieces of watermelon.  (E)
Lunch: Fit & Active wrap with turkey lunch meat, mayo, a little tomato and two slices of provolone cheese. Almonds on the side. (S)
Dinner: Turkey tenderloin baked in the oven, broccoli cooked in butter and some cauli/veggie salad. (recipe coming soon) (S)
What I'm mainly trying to do is incorporate the foods Shan already loves into his week.  He had 3 "E" meals in his week, and as we go I'll try to add another here and there.  He does enjoy the sprouted bread, so a sandwich for lunch won't be too hard for him.  He loves his cheese, but he can make it without!  We also use a lot of real food and not many special ingredients.  That's how we prefer to do things and especially how Shan likes to do the plan.  I use more special ingredients in my meals than he does.  My meals aren't in this post and did differ at times from his.  I eat more E's.  I do share them each day in the A Home With Purpose- THM Family Challenge Page on Facebook.  Feel free to join us there for daily updates and encouragement.
Shan finally weighed-in this morning and he has lost 6 pounds!  I'm very proud of him for sticking with it and for working on getting healthy!
Remember that in JULY we are doing the THM Man Challenge!  Details to come.  One guy will win a Grill! You can see more details in my original post on Shan's weight loss story.  In August the THM Family Challenge. (Details to come.)
*This post may contain affiliate links. It costs you nothing extra, but keeps our website going.