Who doesn't like ooey, gooey cheese, butter and bacon? I don't want to beat around the bush...this is so good!  I make a Loaded Cauliflower Casserole that we've enjoyed at home for two years now, but spaghetti squash is more of a "new to us" veggie.  I've had it at church potlucks, but I'd not bought one to try myself.   WHAT WAS I THINKING?  It was so easy to make and delicious!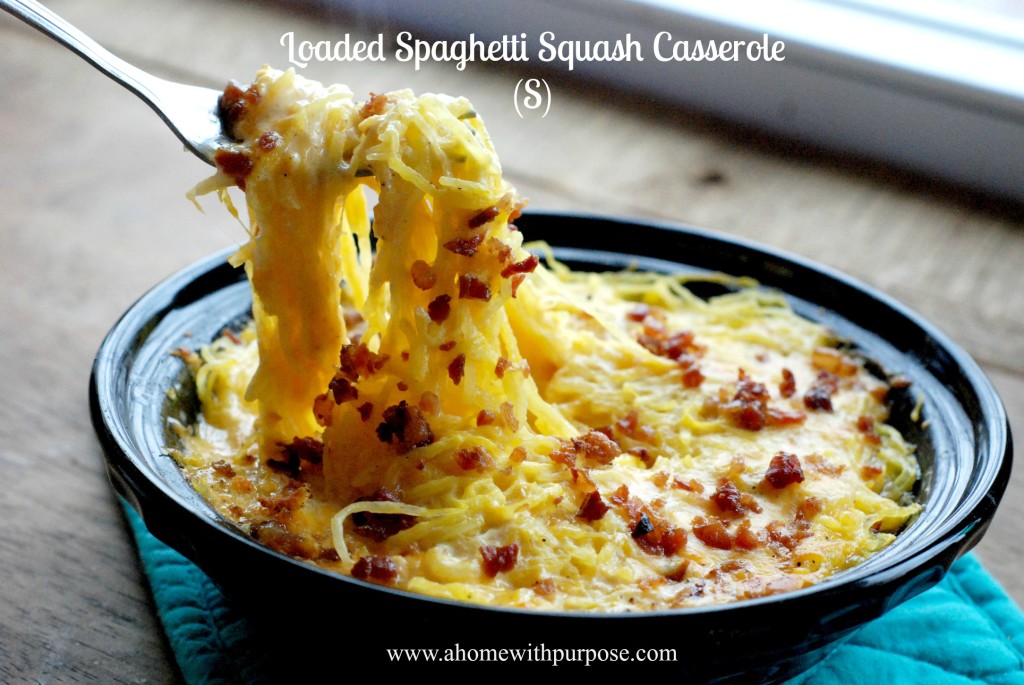 First off, I cooked it all day long in the crock-pot that had our chicken breasts cooking.  I had put about two inches of chicken broth in the bottom of my crock-pot, 4 chicken breasts, salt, pepper and 1 Tbs of minced garlic.  Nothing at all fancy!  I had seen a gal on the Trim Healthy Mama page who cooked hers in the crock-pot this way and being the Drive-Thru Sue that I am, I had to try it!  I was amazed.  It came out soft, tender and yummy.  I didn't do a thing but cut it in half and stick it in the crock-pot. If you don't want to cook it that way, you can bake it in the oven.  Just cut the spaghetti squash in half and place it in a baking dish on 350 for 35-45 minutes.  I know some even bake it in the microwave "gasp".. so it's up to you! After I cooked my spaghetti squash, I pull all the yummy "spaghetti" out of the shell.  Wow, did it come out so easy after cooking all day!  I filled my glass pie plate very full with just half of a squash.  So, it really depends on the size of your squash as to how much you'll need.  I filled my baking dish up to one inch from the tippy top.  I then did dump it into a bowl to mix the other ingredients in so I didn't make a huge mess while stirring! (I had about 4 cups of squash.)I'm a messy cook. In a large bowl- mix about 4 cups of squash, 3 Tbs of melted butter, 1/3 cup of heavy cream, 1/2 cup of sour cream, cream cheese or 0% Greek Yogurt, 1/2 cup of cheddar cheese, 1/8 cup of bacon pieces or turkey bacon chopped, salt and pepper. I then placed it in a casserole dish or glass pie plate.  I put 1/2 cup more of cheddar cheese on the top. Bake at 350 for 25 minutes.  I like the top of mine to brown up so that's what I look for...bubbly brown goodness!  That's it!  This is an Heavy S, so you don't want to eat it every day of the week. * You COULD make this a full meal by adding a pound of cooked ground beef or chicken!  YUM!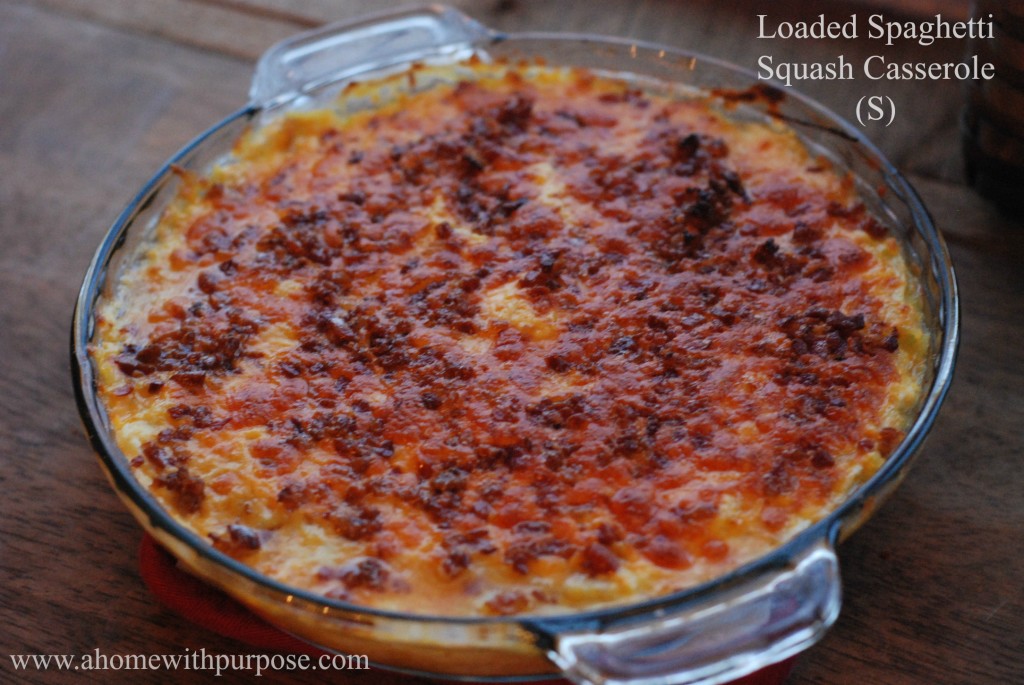 Printable:

Loaded Spaghetti Squash Casserole

Prep time:

Cook time:

Total time:

Ooey, Gooey, Cheesy goodness! Spaghetti Squash has never been so yummy!

Ingredients
Spaghetti Squash(I used half a large squash) (about 4 cups)
3 Tbs butter
⅓ cup heavy cream
½ cup sour cream, ½ cup cream cheese(soft) or ½ cup of Greek 0% yogurt
⅛ cup bacon pieces or chopped turkey bacon
1 cup cheddar cheese (reserve half)
salt
pepper
Instructions
Bake Spaghetti squash until tender and scoop out the "spaghetti.
In a large bowl mix all the ingredients, minus ½ cup of cheddar cheese.
Mix well and place in a pie plate or 9 by 9 casserole dish.
Top with remaining cheese.
Bake at 350 for 25 minutes or until bubbly on top!
Lesson I learned: TRY SOMETHING NEW!  This veggie is so yummy and will be a real staple for us in our Trim Healthy Mama kitchen. PIN: Loaded Spaghetti Squash Casserole (S)
comments are closed
Trackbacks and Pingbacks: