I have a new addiction…KALE CHIPS!  One thing I have missed lately is that crunch of a potato chip.  Just being honest!  I used to really like fattening tater chips and dip in the old days, pre Trim Healthy Mama. For a long time, I've seen my friends chit chat about kale chips and I just did NOT believe them when they said they were a good replacement.  I did try to make them once and it was a burnt-to-the-crisp flop!  The past two weeks have been full of kale chip experiments and I'm happy to say that I've perfected the process here at my house.  Yippee!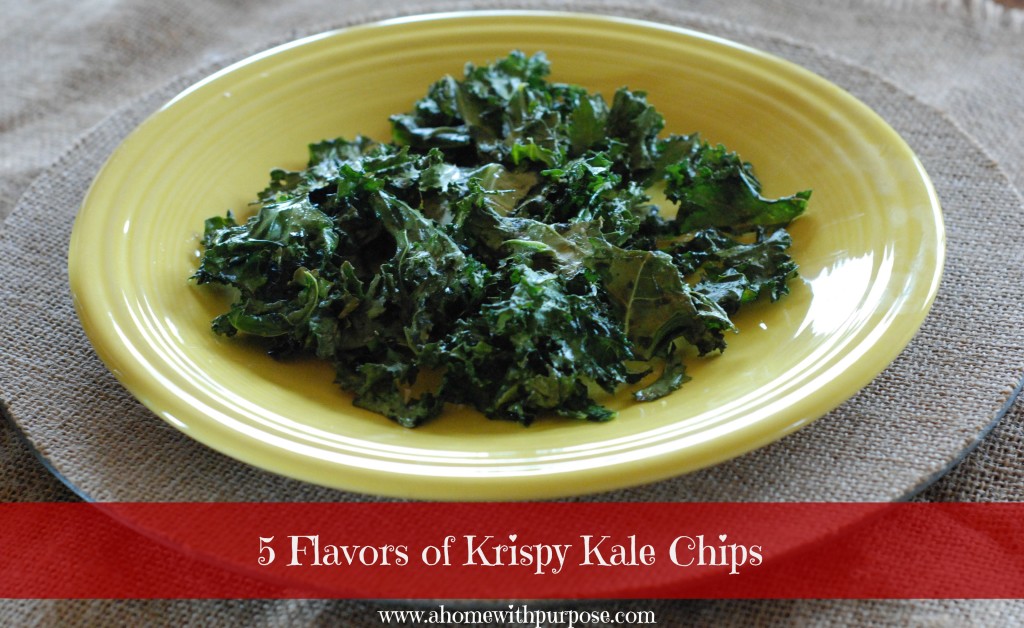 One thing I've learned through trial and error is that I enjoy my kale chips "S" style.  I take a baking tray(with sides) and spray it with some olive oil cooking spray. After I take the kale off the stems/stalks and pull it in smaller pieces, I place it on the tray.  I then drizzle olive oil over the top of the kale.  Don't go crazy!  I then get my hands in there.  I rub the kale with the olive oil and really try to coat the leaves really well.  Add a little more oil if you don't have enough.  I then spread it over the sheet in an even amount.  Now pick your toppings!
Here are my TOP 5 Suggestions:
1.) My first flavor suggestion is Ranch Kale Chips.  You can use Gwen's great Ranch Dressing Recipe & Mix for an excellent homemade mix. You can use a store bought packet as well, but be sure to check the ingredients to make sure they don't sneak yucky ingredients in them.  I know many of you non-purist won't care too much about ingredients. I am learning to read more labels now because of gluten allergies!
2.) My second idea would be Lime Kale Chips.  I love the True Lime packets.  I enjoy them in my drinks from time to time.  You could use a packet or two to sprinkle on top of your kale with some sea salt. YUM!
3.) My third suggestion is Garlic Kale Chips.  This is my GO-TO when I make my kale chips.  After the olive oil, I sprinkle on garlic powder and sea salt.  Delish!
4.) Next on the list is Parmesan Cheese Kale Chips.  If you can have dairy, this may be your favorite!  Just sprinkle it on after the olive oil and add a little sea salt.
5.) Last on my list is French Onion Kale Chips.  I'd suggest using Sarah's yummy French Onion Dip for this topping.  Please just mix together her dry ingredients listed and sprinkle it on the kale.  I would also add a bit of sea salt to that as well.
I pre-heat the oven at 350. Place the kale chips in the heated oven for 10 minutes.  After 10 minutes I move the chips around on the tray.  I then bake them for another 3 to 5 minutes.  I don't like dark edges on my kale chips, so I keep an eye on them.  My biggest mistake the first time I made them was not watching them after that 10 minute mark.  When you move them around on the tray and they are crispy they will sound kinda like leaves in the fall.  (silly I know)  If they are wet or not seeming crispy, put them in a bit longer. Oven times of course do vary!
That's it!  If you want these to go in any THM meal (FP), you can spray them lightly with EVOO cooking spray.  I just happen to love them more with olive oil coated on them well in all the cracks and crevices to make them an "S"!
My 8 year old even likes these and he's a tough critic.  He says they are just like chips!  Whoohoo!

5 Flavors of Krispy Kale Chips
Prep time:
Cook time:
Total time:
Krispy Kale Chips
Ingredients
Bag or bunch of Kale
Olive oil or Olive Oil Cooking Spray
High Mineral Sea Salt
Desired Toppings
Instructions
I pre-heat the oven at 350.
Place the kale chips in the heated oven for 10 minutes.
After 10 minutes I move the chips around on the tray.
I then bake them for another 3 to 5 minutes.
When they are done they will sound like fall leaves.
Pin:
5 Flavors of Krispy Kale Chips