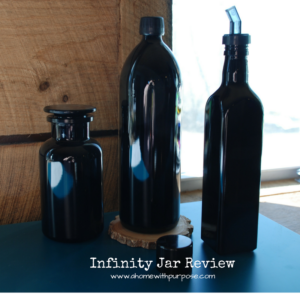 I had the opportunity to review some gorgeous glass containers!  If you love to use glass over plastic, this company may be the perfect fit for you.  Glass bottles, screw top jars, glass jars, glass cosmetic jars and any other jar you might need for storage.  The beauty to me is also the color.  The ultraviolet glass is so pretty!  There's a pretty neat science behind it all.  You can read more about it on their website. Here's a snippet of info from their site:
"Infinity Jars' special pigmented glass is thicker and more durable than your standard glass; it is smell-proof, blocks harmful UV light and is visually discreet." Source
One decision I've made it to become more involved in the essential oil world.  Infinity jars are perfect for that too!  They have wonderful roller balls and essential oil containers.  They'll be sure to stay very fresh in the Infinity containers.
Of the products I love and use the most is the Square Glass Bottle with the Oil Spout.  I use it for my olive oil.  It's so pretty on my counter and keeps the oil fresh for so long. I love that Infinity made eye candy for my kitchen.
If you love apothecary jars, they've got you covered with a variety of sizes.  You can store so many things in them.  These jars will keep dried goods fresh for 6 months ore more.  Talk about wonderful storage for herbs or spices!  The jars are also keep the smell in the jars so you won't smell them in your cabinet.
Last, but certainly not least, I wanted to mention the water glass bottle.  I love the 1 Liter water glass jar!  Here's some fantastic information on their website about this top notch water container:
"Modern scientific research has proven UV light can kill microorganisms from molds, viruses, and bacteria, to algae, yeast, and nasty organisms like e-coli and giardia. Infinity Jars UV Water Bottles harness the natural power of the sun for good. Our glass refracts and blocks out all visible light rays (which cause degradation), while still permitting beneficial UV-A (black light) and infrared wavelengths." Source
If you are looking to rid toxins from your home by adding healthy storage containers, jars and bottles, I think Infinity would be a great fit for you.  Check out their website and see what all they have to offer. Beautiful and a product with a purpose.
Thank you, Infinity Jars for letting me review and keep some beautiful products.  They've been so patient with me as I've been sick and couldn't post when I received my products in the mail.