Hi!  If you are new to Trim Healthy Mama, let me say welcome! I'm Jen and I've been doing Trim Healthy Mama for a little over 3 years now.  I'm not an expert, but as someone who knows the plan and has helped a lot of girls as they begin this journey, I figure I may have a few tidbits of info to share.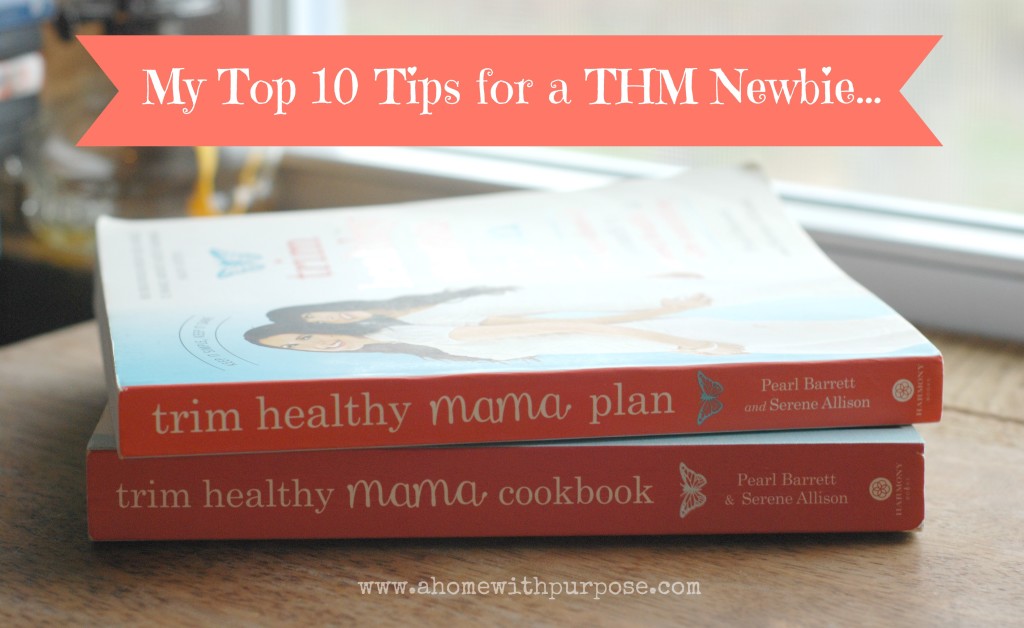 #1- Read the book.  I'm sure you're not shocked by that.  The book is like a textbook on healthy living.  It's about much more than eating really.  There really isn't a shortcut. I highly recommend the newest book, The Trim Healthy Mama Plan.  If you can swing it, the cookbook is amazing as well, but not a necessity.  It has hundreds of wonderful recipes and gorgeous pictures in it that may be a big help to you as you begin. The plan book, however, is the core and heart of it all in words.  Pearl and Serene spent countless hours writing the books, doing research and making their thoughts flow together in unison.  Well, sometimes, they disagree, but if you read it,  you'll see what I mean.
#2- Don't trust the charts on Pinterest or on the THM boards that you might see unless they are put out by THM themselves.  I've seen many misleading or downright wrong charts and graphs out there.  If they are shared on the THM boards, the admins try to catch them and delete quickly.  Only trust THM's created and stamped charts (look for a THM emblem or mark) or any they may share.
#3- Make each meal or snack a learning experience.  Don't blow up or blow it if you don't get it just right.  Give yourself some grace as you begin.  Within a few weeks, it will be second nature.  Ask for help on the THM Membership website or on the Facebook boards for THM if you aren't sure about your meal or a food you'd like to eat.  There are over 100 helpful admins there chiming in and many of us experienced mamas are there to help as well.
#4-Measure yourself as well as weighing in.  That scale sure trips up many folks.  Sometimes when you lose nothing, the inches are melting away and you don't even realize it! Don't let a silly number dictate your mood or your attitude throughout the day.  This plan really isn't about a  number.
#5- You don't have to buy any special ingredients.  There are many recipes in the book that say NSI under them.  NO SPECIAL INGREDIENTS.  I have many on my site to offer and so do many other THM dedicated bloggers.  There are many amazing THM products in their store that you may want to purchase when you can. My top favorites are THM Stevia Extract, THM Super Sweet Blend, THM Peanut Flour, THM Gentle Sweet, THM Baking Blend and THM Pristine Protein Powder!  My favorite two non food items are the Hippie Stick (all natural deodorant) and The Spunj.   The links to go with each product take you right to their page where you can read more!
#6- Is there a trusted guide? Gwen has a fantastic guide on her website that you can download that may be a big help!  (Gwen's Quick Start Guide)  Before you yell at me, "But Jen, in point number 2 you said NOT to trust any charts, etc."  Let me say that Gwen is different.  She received special permission to make this guide and it was read by the Author's before it was ever posted on her site.  Gwen started the THM groups and has wonderful recipes on her site.  Any other guides you may find on Amazon are FAKE!  Don't buy them. Gwen's also has a beautiful cookbook out called, Feast!  It is THM friendly.
#7- Join the THM Membership Website! Do you have to be a member of the THM Website?  The answer is no.  If you don't have the money to do so, that is totally understandable.  If you can skip 2 Starbucks drinks or one big low carb burger at a burger joint, you can pay for it each month.  Those words are from Pearl herself.  They've really tried to make the site affordable for anyone to join.  There are great printables, THM TV, recipes, menu plans and so much more!  All things to help you stay on track.  So, no it's totally not a NEED, but a real sparkly perk!   Join in here.
#8- Join in on the THM Boards on Facebook!  That's a super way to stay accountable.  There are boards for Beginner's, Allergen Free THM's, a Main board and many others that are all official and run by THM admins.  Find what board or boards suit your needs and jump in! Ask questions and get ideas.   Follow the THM Author's Page as well to make sure you see new recipes, success stories and announcements.  I have a new group that is UNOFFICIAL, but that I really love called the THM Blogger's Test Kitchen.  If you love recipes, you may want to come join us!
#9- If you mess up, don't sweat it.  In three hours, start over!  Give yourself grace as you begin.  Each day is full of new mercies and chances to do well.  Seize the day!  Think of that one slip up in light of a lifetime of moments.  It's tiny.  Don't make it a bigger deal than it is.
#10- You don't have to exercise to do well at THM.  The book gives great advice for those who want to work out, but if you aren't one of those gals, no sweat. Exercise for you might be lifting your fork up to your mouth as you eat delicious THM foods.
Those are my top 10 tips for a newbie!  Nothing earth shattering, but hopefully helpful to someone starting out.  You can find me on Facebook at A Home With Purpose- Jen Griffin to see my new posts and on plan recipes and ideas.
*There are affiliates in this post.  This costs you absolutely nothing extra when you order, but gives me a little money to keep my website going.