Apples are one of my favorite things about Fall.  I have many memories that lead to apples, apple picking, apple sauce and apple desserts!  My granny makes a mean apple dumpling and I hope to make something similar that I can eat on plan soon.  My Aunt Pauline recently passed away at 94 years old.  She had some apple trees at her house and each year my Granny would help her care for the trees and pick the apples.  When I was little I remember picking apples and then bringing them back to my Granny's house for a day of preserving and freezing them.  She would wash, core, cut and cook the apples.  Then they'd go through an apple strainer and sauce maker (kinda like this one, but an antique).  The smell of applesauce makin' is so yummy.  Granny always had frozen or canned applesauce at the ready.
I was given a few things after my Aunt's passing and this tea cup and saucer were two of the things I now treasure.  When I made this recipe, I didn't even think about the fact that I was using an apple in the recipe.  My eyes filled with tears as I realized I was using her dishes to display a dessert with the fruit I associated most with her and her home. Just a sweet reminder from the Lord of what a blessing she was in my life.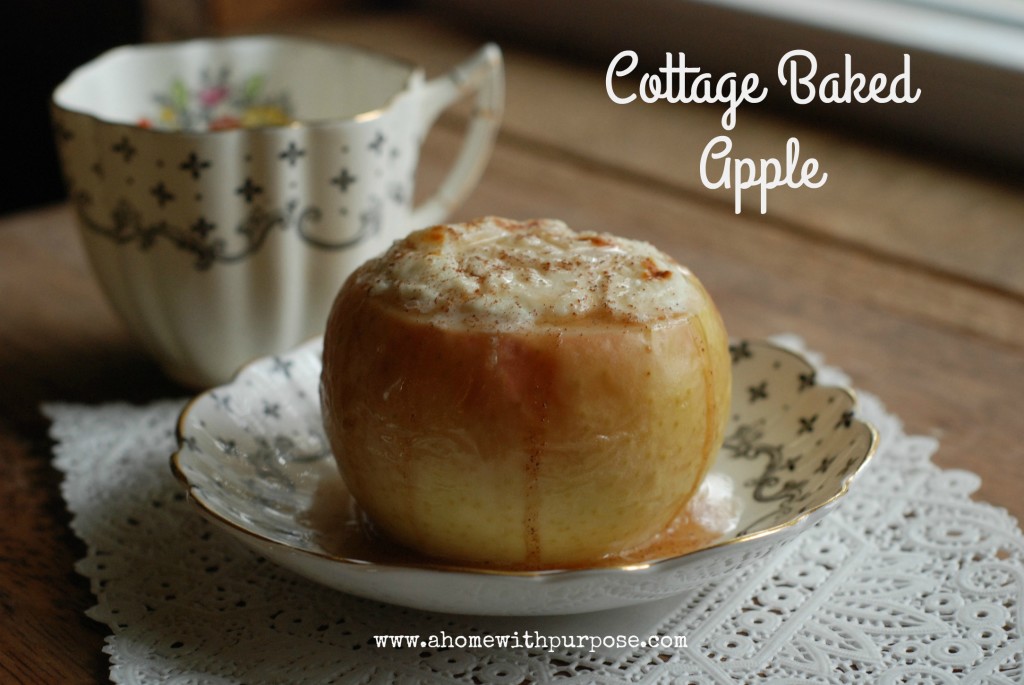 A gal had asked me what I thought about a recipe from Pinterest on my Facebook page.  It looked amazing, but needed some changes to be on plan.  Cheesecake Stuffed Baked Apples is the original recipe and inspired the idea for this post.  You could make a Crossover dessert using cream cheese if you want too.  You'd have to use on plan sweeteners of course.  I wanted to make something similar that I could eat in and "E" setting on the Trim Healthy Mama plan!  I came across one of my friend's recipes for her "Buttermilk" Pie and got a few more ideas and headed to the kitchen!
Ingredients-
1/4 cup of 1 or 2% cottage cheese (or 0% greek yogurt)
1 1/2 Tbs egg whites
One medium size apple (I used a Gala.)
1/4 tsp cream of tartar
1/4 tsp Trim Healthy Mama Gluccomanan or Xanthan Gum
1/2 tsp Trim Healthy Mama Sweet Blend or another on plan sweetener
cinnamon (a few shakes is optional)
Instructions-
Pre-heat the oven to 350 degrees. Core one medium size apple and scoop out some of the inside.  I hollowed it out a bit, but left the bottom of the core. You want a container type effect, not a hole through the whole apple.  I used a Gala apple and it was super yummy!  Like this….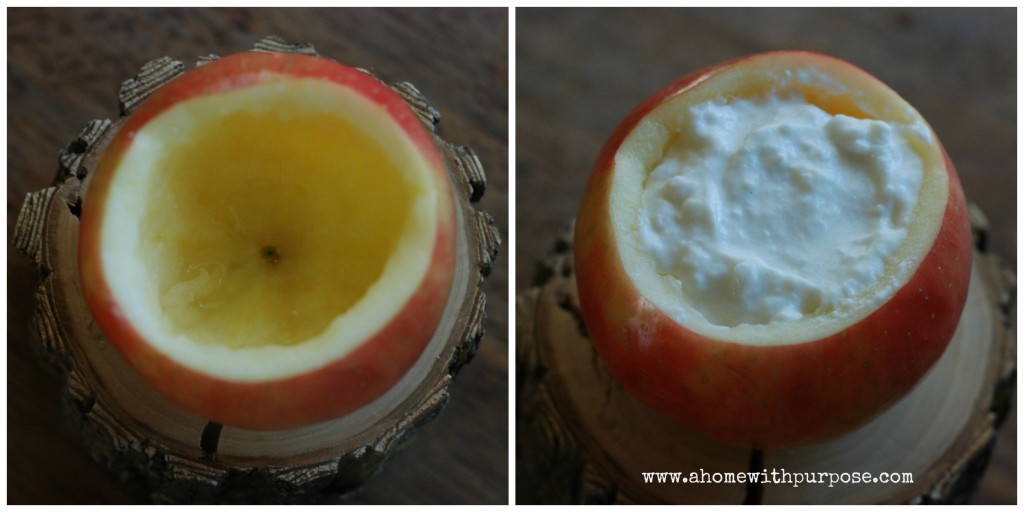 I took the rest of the ingredients and placed them in a little blender or food processor.  I wanted my cottage cheese to me smooth and not so lumpy! I'd still process it a few seconds if you use Greek Yogurt as well so that the ingredients are well mixed.  I then filled up my apple with the mixture.  You don't want it too much over the apple because it rises a bit.  If you use Greek yogurt is puffs up more than the cottage cheese.  I've made it both ways and enjoy both!  There was something about the cottage cheese that I like a smidgen more though.  Bake this in an oven safe pan or dish at 350 for 25-30 minutes.  I felt my apple and it was nice and squishy.  I didn't want it under-baked, but nice and soft.  The baking time also depends on your oven and how much apple you are baking. If you have a small apple, use 3 Tbs of cottage cheese or yogurt and all the other ingredients listed.  I did broil mine for a minute or two to get a nice little bit of color on top.  I sprinkled a little cinnamon on top, but you could shake a bit in the mixture before you baked it as well.  Lastly, I drizzled a bit of maple syrup over mine.  Plan approved of course!  Gwen has a recipe on her site for some Stevia Syrup that many love.   Walden Farms sells a Caramel Syrup that would be VERY yummy on this as well. It's one of those personal choice items as it has a sweetener that isn't the best in it. Might not be too bad to use occasionally though on something like this dessert.  I enjoy this warm, right out of the oven.
Nothing too hard, yet I think it looks a bit fancy!  You could make 4 apples pretty easily by just quadrupling the recipe.  I'd not quadruple the glucci, but just use about 1/2 tsp if you do.  Same for the cream of tartar.  It just helps thicken this up a bit.
One thing I love about this dessert is that it has protein packed right inside! Protein helps blunt the natural sugars in the apple so that your blood sugar won't spike.  Neat trick!  I'd eat it for breakfast or a snack as well.I hope you enjoy it like I have this week.
This post is for you, Auntie!  You were loved and will be missed many. I am thankful for your love for the Lord and how you invested in your family.
*This post may contain affiliate links.