Warm, yummy and filling breakfasts are my favorite!  This Warm Chia Porridge seems too simple, but it's truly a delicious breakfast or snack.  It is wonderful warm for breakfast or cold.  You can make it the night before and eat it cold for breakfast. It's kinda like an overnight pudding if you eat it that way. You can't go wrong either way!
One thing I like about this is that I make a jar up of the dry ingredients and I keep it ready to go!  There are 8 servings in the jar so it's a quick thing to make in a jiffy if you are a gal on the run!
Dry Mix:
1 cup of chia seeds
1 cup of golden flax meal/flour
1 cup of unsweetened coconut
When ready to eat, scoop out 1/3 of a cup of the dry ingredients and put them in a microwave safe bowl!  If you are really wanting to save time you could figure up the amount of sweetener you like and even put the protein powder in ahead of time and store it in the fridge!
Add:
1/2 tsp of vanilla extract or another extract you like!
1 tbs of sweetener.  (Super Sweet Blend or xylitol)
1/2 cup of unsweetened almond milk
1 Tbs THM's Pristine Protein Powder (optional but, I like the extra protein)
1 tbs of heavy cream(optional)
I mix this all together and let it sit on the counter for about 10 minutes.  If you like it a bit looser you can add more of the almond milk.  This will expand in your bowl and be much thicker after the 10 minute wait! You could always do this the night before if you don't have 10 minutes in the morning to wait!  I just mix it together before I hop in the shower!
After the 10 minutes, I pop it in the microwave for about a minute until it's nice and warm.  Times may vary for your microwave.  After I pull it out from warming I add the heavy cream and stir it in.  This has MADE my mornings!  I seriously love it!  It's super filling too.  I ate this today with a few pieces of bacon.
Above is the basic recipe.  I often add 2 TBS of cocoa powder to the mix when I'm getting ready to eat it!  After it's warmed, I add 1 TBS of Lily's Chocolate Chips and swirl those in!  OH MY GOODNESS!  This is my favorite! It reminds me of cocoa grits or cocoa cream of wheat that I used to like eating!
The second thing I enjoy is taking a 1/2 cup of so of frozen strawberries, microwaving them for 45 seconds to a minute and sweetening them with a little Sweet Blend.    I pour that over the top of my warm porridge!  Either version is a HUGE hit!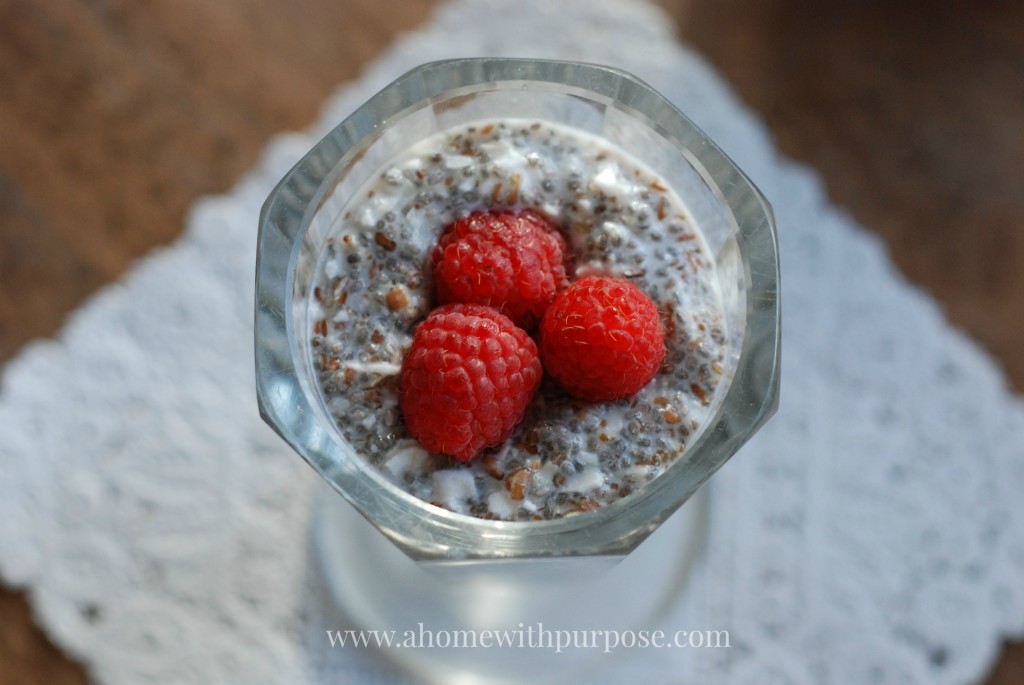 There you have it!  I hope you will enjoy this recipe like I do!  It's a time saver, filling and yummy. Trim Healthy Mama is a great book for you to purchase if you are looking for a healthier lifestyle and a great way of eating!   Make sure you check out their BRAND NEW line of organic sweeteners!!!
Follow me on Facebook:  Home With a Purpose- Jennifer Griffin