Single serving treats are a fun addition to your week. I'm always mixing up new combinations of flours and ingredients that I enjoy to make up something new. I got my brand new THM Oat Fiber in the mail last week!  YIPPEE!! It's gluten free which is so wonderful for many THM families.  I know it is for me.  I really like the taste of it much better than the "other" brand I was using before.  I notice a big difference.  So, what's a girl to do, but to start baking! Oh, first things first... here we are meeting for the first time.

Yes, it was love at first sight! I know...the name of this recipe is catchy, but I was stumped.  There are many Snickers, peanut butter, nutter butter names out there already!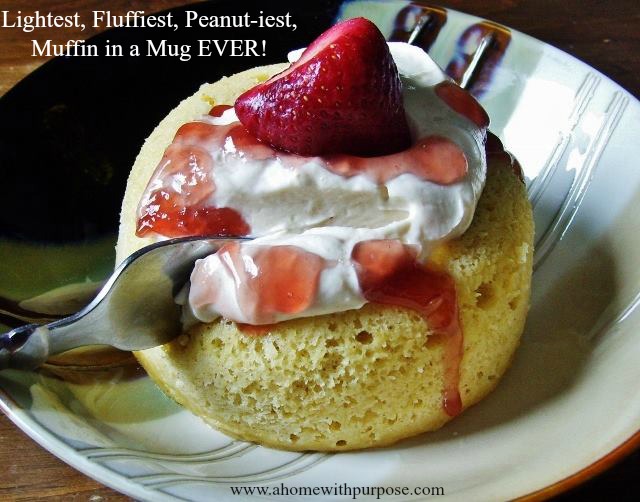 (pictured above with Greek Non fat yogurt with some peanut flour swirled in a drizzle of All Fruit Polaner jelly) After she's got a smear of all natural peanut butter a little sugar free syrup and some unsweetened almond milk poured over her: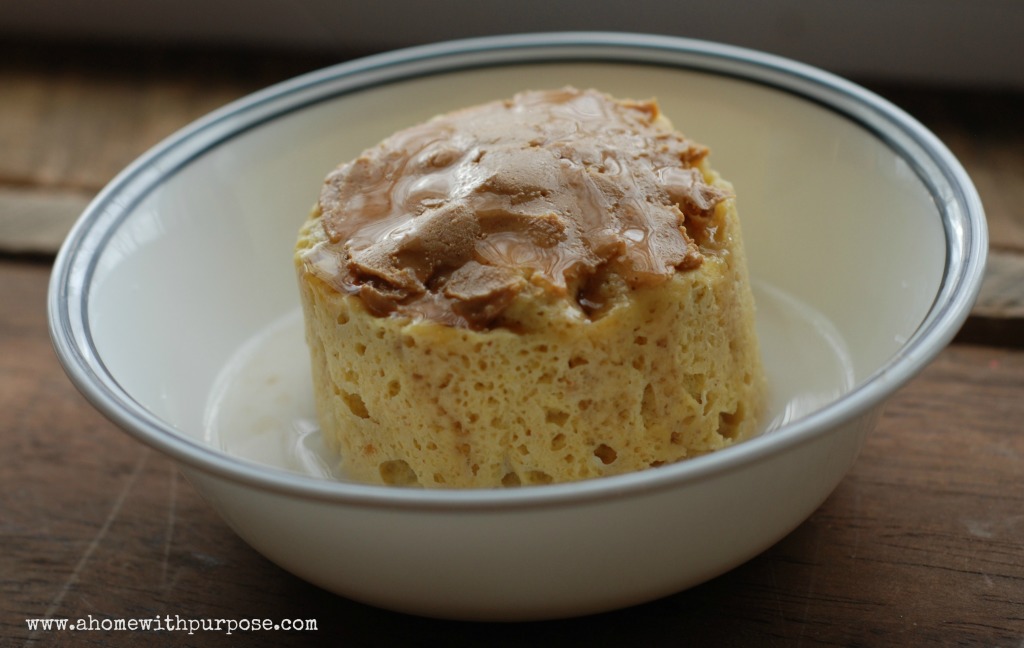 I blame all those fancy toppings on ONE person....Briana Thomas.  You know her...she's the 18 year old, ice cream, bakerista!  She came up with her French Toast goodness and it was fantastic.  I've used her toppings on mine too since I loved it so much.

Peanut & Oat Fiber Muffin-in-a-Mug (S)

Recipe type:

Breakfast, Snack

Prep time:

Cook time:

Total time:

Ingredients
1 egg
2 Tbs THM Oat Fiber
1 Tbs THM Peanut Flour
1 Tbs Coconut Oil or butter
1 Tbs water
¼ tsp vanilla
½ tsp baking powder
½ Tbs of THM Sweet Blend or 1 Tbs of Truvia
Instructions
Mix the ingredients together in a bowl or mug. In my microwave it takes 1 minute on the dot. You can also bake it at 350 for 8 minutes or until it's done.
You could make this a Fuel Pull by using 3 Tbs of egg whites instead of 1 egg and by using 1 tsp of butter or coconut oil instead of the full Tbs.  You may want to add a tiny bit more water if you do though.  This is gluten and dairy free if you don't use the butter!  Win win with the new THM Oat Fiber and Peanut Flour! The muffin on it's own is a Deep S! (no toppings, but you could use butter!) Pretty easy!  You may be able to also make this in a pie plate or 9 by 9 casserole dish if you x's the recipe by 4.  I know many do that all the time with mug or single serving recipes. I do enjoy using peanut flour and oat flour because they aren't as full of fat and calories as the heavier nut flours.  I think it's nice to have a good balance. Pin: Lightest, Fluffiest, Peanut-iest Muffin in a Mug EVER! (S) Come visit me on Facebook: A Home With Purpose- Jen Griffin
comments are closed