I love Mexican dishes on Trim Healthy Mama! I also LOVE easy to fix, casserole meals. I'm sure you've figured that out from my Meat Roma Pie and Shepherd's Pie recipes. One night I literally threw this meal together and we've enjoyed it a few times since then. Feel free to add your own favorite toppings or added ingredients that are THM friendly.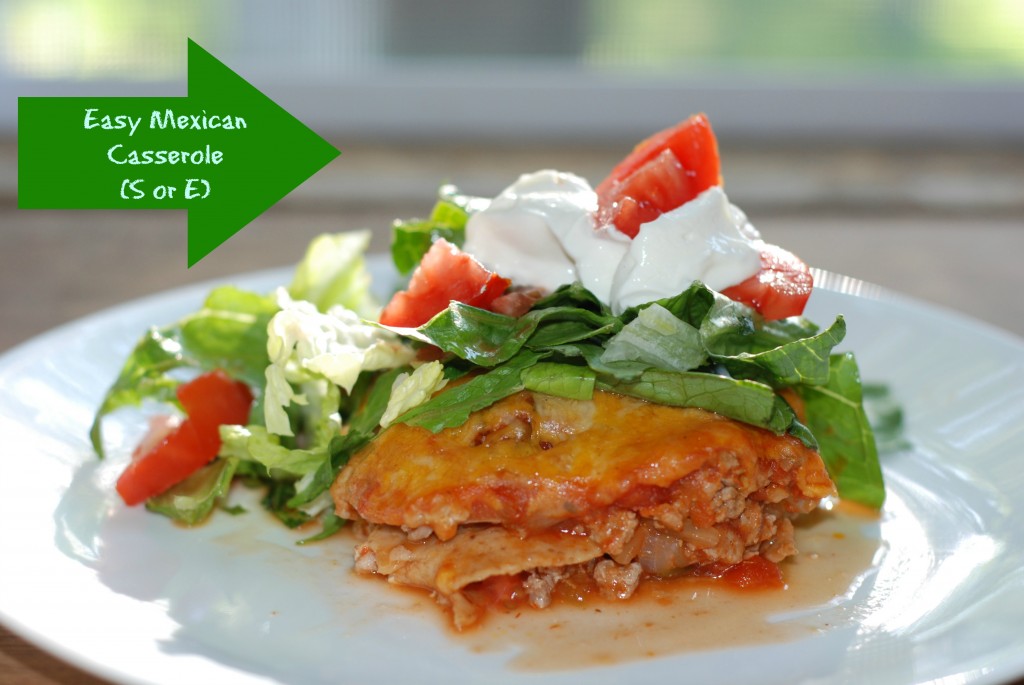 Easy Mexican Casserole (S)
1 lb of hamburger
1/2 of an onion, chopped
1 cup of salsa (pick your own heat)
2 low carb tortillas (I use La Lortilla Factory)
1.5 cups of cheddar cheese
salt and pepper
Brown the hamburger in a skillet with the onion and drain off the extra fat. Mix in the salsa. Take a 9 by 9 glass baking dish and spray it with some cooking spray. I love my olive oil cooking spray! I place one whole tortilla in the bottom. It takes up the whole dish! Place half the meat/salsa mixture over the tortilla, then a sprinkling of cheese(1/2 cup or so). Even it all out and place another tortilla on top. Repeat! I then put the rest of the cheese on top! Bake at 350 for about 25 to 30 minutes. I like my cheese bubbly and browning a tad. At our house this serves four to six. Veggies are a HUGE part of THM so a nice side salad, green beans or broccoli would be a great side item. Toppings: lettuce, chopped bell peppers, a few chopped tomatoes, sour cream, guacamole, etc.
For an E: *To make this dish an E you can make a few easy changes! Use lean ground turkey or lean ground beef! After it is cooked, drain it and rinse it in extremely HOT HOT water. Our goal is the get most of the fat out of the dish. I'd also leave out the full fat cheddar cheese and pick a lower in fat cheese. You could use some 1 or 2% cottage cheese in the middle layer. I do that all the time in lasagna! Save the sprinkling of lower fat cheese for the top of the dish. Top with lettuce, tomato, peppers, onions and some 0% Greek yogurt! I promise it tastes a lot like sour cream! On the side you could enjoy a 1/2 cup of brown rice. Just skip the fats like sour cream, guacamole and the fattier meats.
Join me on Facebook: A Home With Purpose- Jen Griffin
PIN: Easy Mexican Casserole (S or E)